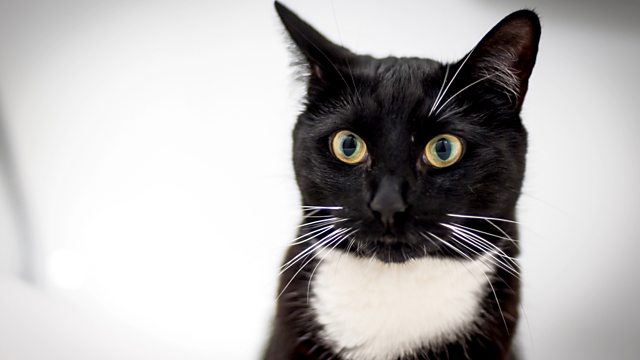 The Quiet, Martini-less Life
Blake Ritson reads a classic Jeeves and Wooster story from P G Wodehouse, one of the masters of comic fiction.
'Mr Wooster,' he said, 'you are a typical young man about town.'
'Oh thanks,' I responded, for it sounded like a compliment, and one always likes to say the civil thing.
Bertie Wooster has been overdoing the metropolitan life a little, so on doctor's orders, finds himself retiring to the quiet hamlet of Maiden Eggesford to 'sleep the sleep of the just and lead the quiet Martini-less life'. Only the presence of his irrepressible Aunt Dahlia shatters the rustic peace as an imbroglio develops - destined to be famous down the long years as the 'Maiden Eggesford Horror' or 'The Case Of The Cat Which Kept Popping Up When Least Expected' - which involves a stolen cat, an over-sensitive racehorse, and some star-crossed lovers. Wooster's quick-thinking butler Jeeves, as always, comes to the rescue.
Today: 'The quiet, Martini-less life' - man-about-town Wooster finds himself, on doctor's orders, sampling the quiet life in the sleepy village of Maiden Eggesford. But then, best laid plans....
The author of almost a hundred books and the creator of Jeeves, Blandings Castle, Psmith, Ukridge, Uncle Fred and Mr Mulliner, P G Wodehouse was born in 1881 in Guildford, Surrey, in 1881. He was created a Knight of the British Empire in 1975 and died the same year at the age of ninety-three. Jeeves and Wooster were perhaps his best-known creations; 'Aunts Aren't Gentlemen' was published in 1974, and was the last novel to feature the literary duo.
Reader: Blake Ritson
Abridger: Richard Hamilton
Producer: Justine Willett.
Last on
Blake Ritson reads an excerpt from Aunts Aren't Gentlemen
Credits
| Role | Contributor |
| --- | --- |
| Reader | Blake Ritson |
| Producer | Justine Willett |
| Abridger | Richard Hamilton |
| Author | PG Wodehouse |