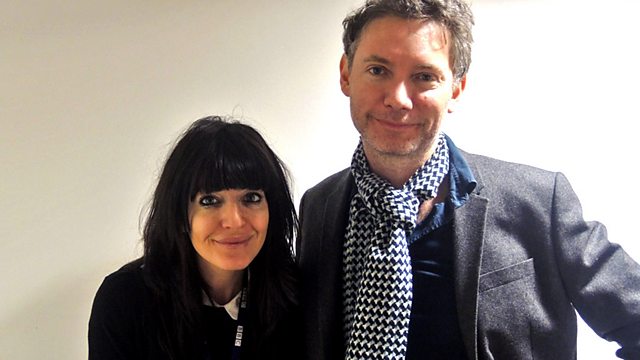 Simon Amstell, Kevin Macdonald and Mr Gee
A sparkling Christmas line up join Claudia on the Radio 2 Arts Show
Hollywood director Kevin Macdonald has woven together hundreds of hours of footage sent in by the public to create his new documentary Christmas in a Day.
Performance poet Mr Gee takes to the Radio 2 Arts Show stage and performs his poetry
Never Mind The Buzzcocks Host, comedian Simon Amstell goes back to his stand-up roots in his new dvd
The Radio 2 Arts Show goes behind the scenes of the Royal Albert Hall at Christmas
Plus the must-see films with Robbie Collin.
Last on
Director Kevin MacDonald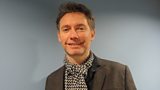 If you've ever wanted to peer through the windows of someone else's home and imagine the lives being lived inside, then Oscar winning director Kevin MacDonald has handily done the voyeuristic bit for you. For his latest documentary, Christmas in a Day, he's spliced together hundreds of hours of film sent in by people all over the UK. The result is funny, sad, heart-warming and heart-breaking...a bit like the big day itself.
Kevin MacDonald's Christmas in a Day is out now – and you can see it for free as it's on Youtube right now.
Poet Mr Gee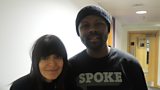 Cast aside any thoughts you might have of spoken word being the reserve of terribly earnest, polo-necked young men imploring you to listen to their latest pretentious waffle. It might be partly true – but not for MR GEE!. Not for him, the dank room above a pub. He's busy supporting Russell Brand in packed out theatres and arenas.
MR GEE will be back supporting Russell Brand on tour from February next year. 
Simon Amstell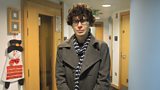 Comedian, tv presenter, screenwriter and actor Simon Amstell talks to Claudia about comedy, Christmas and the cool kids at school!
Simon Amstell's new DVD "Live At The BBC" is out now, certificate 15
Robbie Collin and his film review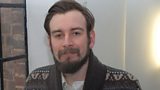 American Hustle
Director: David O. Russell

Cast: Christian Bale, Amy Adams, Bradley Cooper, Jennifer Lawrence

A fictional film set in the seductive world of one of the most stunning scandals to rock the United States, American Hustle tells the story of brilliant con man Irving Rosenfeld, who along with his equally cunning British partner and lover Sydney Prosser is forced to work for a wild, unhinged FBI agent Richie DiMaso.  DiMaso pushes them into a world of Jersey powerbrokers and mafia that's as dangerous as it is enchanting. Jeremy Renner is Carmine Polito, the passionate, volatile, New Jersey political operator caught between the con-artists and Feds. Irving's unpredictable wife Rosalyn could be the one to pull the thread that brings the entire world crashing down. Like David O. Russell's previous films, American Hustle defies genre, hinging on raw emotion, and life and death stakes.
American Hustle is out now, certificate 15.

All is Lost
Director: JC Chandor
Cast: Robert Redford.
Deep into a solo voyage in the Indian Ocean, an unnamed man wakes to find his 39-foot yacht taking on water after a collision with a shipping container left floating on the high seas. With his navigation equipment and radio disabled, the man sails unknowingly into the path of a violent storm. Despite his success in patching the breached hull, his mariner's intuition, and a strength that belies his age, the man barely survives the tempest. With the sun unrelenting, sharks circling and his meager supplies dwindling, the ever-resourceful sailor soon finds himself staring his mortality in the face.
All is Lost is out on Boxing Day, rated PG
The Secret Life Of Walter Mitty

Director: Ben Stiller
Cast: Ben Stiller, Kristen Wiig, Shirley MacLaine, Adam Scott, Kathryn Hahn, Sean Penn

In his secret life, Walter Mitty dreams big…really, really big.  There's no challenge beyond his grasp, be it climbing a massive glacier or rescuing a senior citizen from an exploding building.  When he's not daydreaming, the not-so-secret life of Walter Mitty is the opposite of his heroic alter-ego's; he's just an everyday guy facing imminent career downsizing, who's too timid to ask out his pretty co-worker. But when Walter faces his ultimate real-world test, he springs into action on a global adventure exceeding anything even he could have dreamed of.
The Secret Life Of Walter Mitty is out on Boxing Day, rated PG
Mandela: Long Walk to Freedom

Director: Justin Chadwick
Cast: Idris Elba, Naomie Harris
Mandela: Long Walk To Freedom spans Mandela's extraordinary life, from his childhood in a rural village through to his inauguration as the first democratically elected President of South Africa.  It is the thrilling story of an ordinary man who rose to the challenge of his times and triumphed - an intimate portrait of the making of a modern icon.
Mandela: Long Walk To Freedom is out on the 3rd January certificate 12A 

Charles Spencer and his theatre review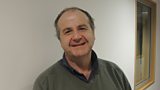 1: Aladdin at Wimbledon Theatre
Panto is the last refuge of the old-fashioned British variety tradition – amped up now with rock concert lighting and pop songs – with the authentic whiff of greasepaint, saucy humour and speciality acts performing ancient routines. The star this year is Jo Brand, who plays the Genie of the Ring.
Aladdin is on at the Wimbledon Theatre until 12th January
2: American Psycho, at the Almeida
Starring Matt Smith as the psychotic Patrick Bateman. Living the high life in 1980s Manhattan, Patrick has it all – looks, money, style and status.  He and his entourage buy the most expensive designer clothes, eat at the most exclusive restaurants and party at the hottest clubs.  But privately, Patrick indulges in another kind of transgression. And people - including those closest to him - keep disappearing
American Psycho runs at London's Almeida Theatre until the 1st February
3: Henry V
Jude Law plays the King of England struggling with his new duties, taking command during the famous Battle of Agincour against France and facing the surrounding political pressures. Directed by Tony Award winner Michael Grandage
Henry V is on at London's Noel Coward theatre until 15th February

4: Duck House at the Vaudeville Theatre
Duck House is based around the events of the 2009 UK parliamentary expenses scandal. Writers Patterson and Swash are best known for their work on tv , including such shows as Have I Got News for You and Mock the Week.
The Duck House is on at London's Vaudeville Theatre until 29th March