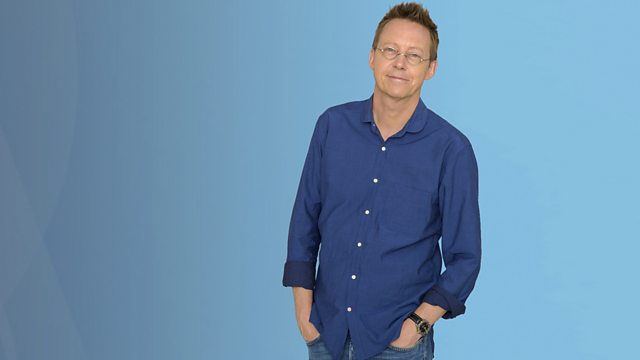 It's Christ-Mosh time
It's a festive Drivetime as Dr Mosh presents a special Christ-Mosh. Plus The Collective gather to debate listeners' darkest secrets and worst misdemeanours. Plus there's sport with Matt, Rebecca analyses the business news and there's regular travel updates from Sally Traffic.
Last on
Gingerbread Stuffing
Gingerbread Stuffing
Sometimes, it makes sense to use one's obsessions to advantage. I know that most people don't have trivial light-bulb moments when the notion pops into an already food-filled head to make a stuffing in which crumbled gingerbread cake replaces breadcrumbs, but that's, unfathomably, how my mind works.
You can use dark brown, dense gingerbread, or the lighter, sandier loaves. I buy spiced bread rather than make it & you will often find it sold, even still in loaf-shape, as ginger cake. It all works. Indeed any sweet, spiced bread, such as pannetone, would.
Serves 8-10
Prep time  25 mins
Cooking time  60 mins
Ingredients
500g onions (3 medium onions)
2 eating apples (approx. 325g / 11oz, peeled & cored)
45g butter
1 x 15ml tbsp vegetable oil
750g streaky bacon
zest of 2 clementines/satsumers
450g good shop-bought gingerbread loaves (such as Mcvitie's Jamaica) loosely crumbled
2 large eggs (beaten)
approx 1Ž2 tsp freshly ground pepper
Method
Using a food processor or by hand, finely chop the onions & apples. Put the butter & oil in a large, wide saucepan over a medium heat & fry the chopped onions & apples until soft, about 10–15 minutes. Finely chop the streaky bacon in the processor, or by hand, & add this to the softened onion & apple mixture. Cook everything, stirring frequently, for about 5 mins more. Add the zest of the clementines/satsumas. Take the pan off the heat & let it cool a little before mixing in the gingerbreadcrumbs. You can let this get properly cold now if you want. Just before you want to cook the stuffing, add the beaten eggs & pepper, & use it to stuff the cavity of your turkey, or cook all of it (or what's left after stuffing your bird) in a buttered baking dish. I don't stuff the bird but put all of my stuffing in a very generously buttered old Le Creuset terrine, with internal dimensions of approx. 25cm x 9cm x 7cm deep / 10 x 31Ž2 x 3 inches deep. Bake it in a hot oven (200°C/gas mark 6) with your turkey for about the last 45 mins. If the stuffing's going into a full oven – which it no doubt is – there should be no need to cover the dish. If the oven is less full, & therefore hotter & less steamy, you could cover with foil for the first 30 minutes. Let the cooked stuffing sit in its terrine for a good 10 mins out of the oven before turning it out & slicing it. Or just spoon from the dish if that's less stressful. (I love a slice of this, cold, in a Christmas night or Boxing Day turkey sandwich.)
Nigel's Top Tips
      Make the stuffing, leave to cool completely then beat in the eggs & pepper. Cover & keep in the fridge for up to 2 days.
    Make the stuffing, with the eggs & pepper, & freeze for up to 2 weeks. Thaw overnight in the fridge.
The Overall Most Popular Tracks
Most added tracks from this show