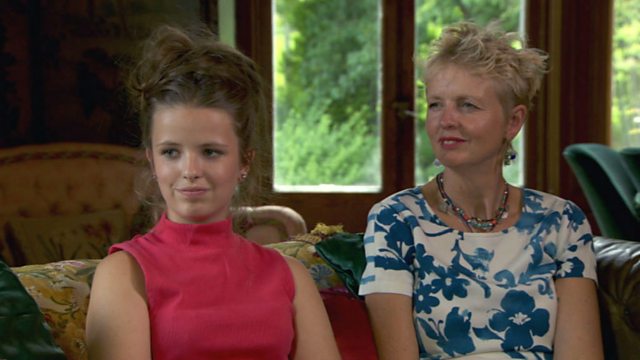 Ann an cuideachd an couturier ainmeil Albannach Sandra Mhoireach, bi aoighean a' cruinneachadh ann an Taigh Aigas, faisg air a' Mhanachain air a' Ghàidhealtachd. Gach seachdain coinnichidh Sandra ri daoine aig a bheil ùidh mhòr ann an aodach.
Bidh i a' coimhead ri mar a tha stoidhle air atharrachadh thairis air na ginealaichean - bho vintage gu punk, agus a' faighinn a-mach ciamar a tha daoine a' cruthachadh stoidhle sònraichte dhaibh pèin. Còmhla ri Sandra anns phrògram seo bidh Julie Brook agus an nighean aice Stella Brook-Young.
'Se ealanaich a th'ann an Julie, agus bidh sinn a' faighinn a-mach mar a tha an nighean òg aice, Stella, a' toirt dhi comhairle mu aodach agus fasan. Bidh sinn cuideachd a' coinneachadh ri Patricia Niemann, dealbhadair seudan à Bavaria, ach a tha fuireachd air a' Ghàidhealtachd. 'Se punk a th'ann am Patricia, ach ann an dòigh gu math eadar-dhealaichte.
One of Scotland's most renowned couturiers, Sandra Murray, explores clothes and what people say to the world through what they wear. Each week Sandra is joined by guests at Aigas House, near Beauly in the Highlands, and together they explore the importance of fashion and design to them personally.
Sandra charts styles across the generations - from vintage to punk and discusses with her guests how they create their signature look. Joining Sandra in this program are Julie Brook and her daughter Stella Brook-Young.
Julie is an artist, and we'll find out how her young daughter gives her advice on fashion and style. We'll also meet Patricia Niemann, a jeweller from Bavaria, who lives in the Highlands. Patricia is a punk, but with a difference.
Last on