Radio 2's Cecil Sharp Collection
At this year's Radio 2 Folk Awards, the first inductee in our new Hall of Fame will be the folk collector Cecil Sharp. Sharp is a godfather of English traditional music, who helped to preserve much of the country's folk heritage.
Folk music's oral tradition was in danger of dying out, but Sharp wrote down more than 1600 tunes or lyrics and his work was a key part of the first 20th century folk 'revival'.
Much of the music recorded by Sharp is still known and loved today, and to celebrate his induction into the Folk Awards Hall of Fame, Radio 2 listeners can contribute their own recordings to a 21st century folk collection of our own.
We have chosen three songs and three tunes from Sharp's famous collection.  You can download sheet music and lyrics for each song and tune on this page.
Cecil Sharp Collection: Latest submissions
In the lead-up to this year's Folk Awards we're featuring a selection of your own performances of music from Cecil's collection here on the the Radio 2 website.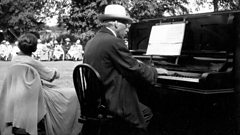 How To Contribute Your Recordings
We'd like to hear recordings of your own performances of the music that Cecil Sharp collected. You can publish your recordings to YouTube, Soundcloud or Audioboo. Each of these services will allow you to sign up for a free account and publish your own recordings. We'll be embedding a selection of the submissions onto the Radio 2 website so please make sure that your submissions are suitable for a family audience.
Once you have published your audio you can share it in one of the following ways:
:: Email folkshow@bbc.co.uk with a link to your recording
:: Tweet a link to your recording using the hashtag #R2CecilSharp
We will be sharing some of our favourite recordings in Radio 2's Cecil Sharp Collection.
:: Listen to the latest recordings in our Cecil Sharp Collection
Please note: We are unable to accept or share recordings sent directly to Radio 2. All recordings should be published to Youtube, Soundcloud or Audioboo.
Cecil Sharp on BBC Playlister
To help inspire your arrangements and recordings, we have created a playlist of different arrangements of songs and tunes from Cecil Sharp's Collection.
:: Listen to our Cecil Sharp Playlist
Uploading Help
About Cecil Sharp
Born in 1859, Cecil was a music teacher and occasional composer who held jobs in Australia and London. But it was in his personal vocation as a song and dance 'collector' that he made his mark on the history of English traditional music.
This quintessential Victorian school master travelled - often by bicycle - from village to village, searching for the remarkable 'source' singers who carried the folk music in their hearts and heads, passing it down from generation to generation.
Through lectures and books, he championed this indigenous music and inspired revivals of dances in Northumberland and Yorkshire that might otherwise have disappeared. In 1911 he founded the English Folk Dance Society, which promoted traditional dance nationwide. In 1932, it became the English Folk Dance and Song Society (EFDSS), and today still has its headquarters in Camden's Cecil Sharp House.
Images of Cecil Sharp used courtesy of the English Folk Dance and Song Society (EFDSS).