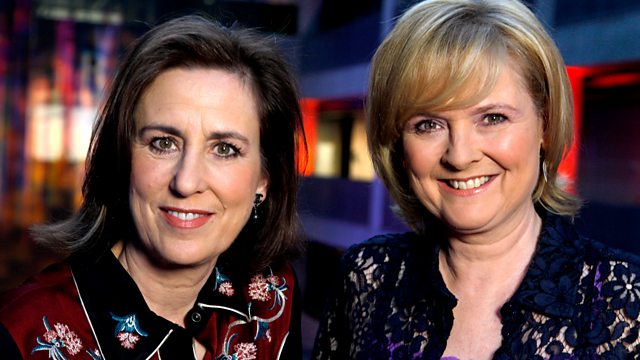 08/12/2013
Martha Kearney and her guests look ahead to two of 2014's major film releases - Mandela: Long Walk to Freedom, which stars Idris Elba as one of the 20th century's most important political icons, and Inside Llewyn Davis, the new film from the uncategorisable Coen Brothers, an homage to the New York folk scene of the early 1960s. They also review the National Theatre's adaptation of Erich Kastner's classic children's book Emil and the Detectives and the Serpentine Gallery's survey of the work of the provocative artistic siblings Jake and Dinos Chapman.
Last on
Mandela: Long Walk to Freedom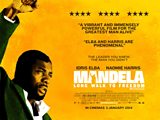 In a tiny prison cell on Robben Island, Nelson Mandela furtively wrote what was to be the basis for his best-selling 1994 autobiography, Long Walk to Freedom. Now, after a long process of drafting and development, producer Anant Singh's big screen adaptation of the book is finally due to be released in cinemas starring Idris Elba (Luther, The Wire) in the role of the prisoner turned statesman. 
With a screenplay by Oscar nominated British writer William Nicholson (Shadowlands, Gladiator), director Justin Chadwick's film charts Mandela's life all the way from his childhood in rural Transkei to his involvement with the ANC, his 27 year incarceration and, eventually, his investiture as South Africa's first black President. 
The film also explores the story of Mandela's second wife, Winnie (Naomie Harris) whose own imprisonment leads her towards more and more militant methods of direct action against apartheid.
Mandela: Long Walk to Freedom is released on 3 January 2014.  
Inside Llewyn Davis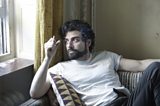 The latest film from Joel and Ethan Coen is the tale of a struggling musician in the folk scene of New York's Greenwich Village in 1961. Oscar Isaac stars as the singer songwriter who yearns for recognition as a solo artist and who refuses to compromise his approach to authentic material, but who appears destined always to be in the right place at the wrong time. 
The film is notable for Isaac's performances of entire songs and for its soundtrack, which is produced by T Bone Burnett, the Coens' collaborator who curated the soundtrack to O Brother, Where Art Thou. There are also supporting performances from Carey Mulligan, Justin Timberlake and another long time Coen collaborator, John Goodman.
Inside Llewyn Davis is released on 24 January 2014.   
Emil and the Detectives at the National Theatre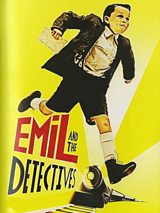 First published in Germany in 1929, Erich Kästner's Emil & The Detectives is a classic children's tale of derring do set in Weimar Era Berlin. One of the first children's books to feature a child sleuth – way ahead of Enid Blyton and Anthony Horowitz – it's the story of a young boy who is sent on a train by his mother to deliver some hard earned money to his grandmother. But when the money mysteriously disappears, Emil and a gang of new friends in the city determine to track down the thief and bring him to justice. 
Adapted by Carl Miller, the production - directed by Bijan Sheibani and featuring a cast of children from local schools - is at the National Theatre in London until 18 March. 
The Great Train Robbery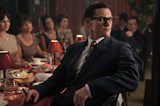 It's half a century since the Great Train Robbery hit the headlines in August 1963. The sheer audacity of Britain's largest ever heist captured the press and public's imagination – with the sum stolen (£2.6 million) equating to over £40 million today. 
The story has been much mythologised and often glamourised, but now two new dramas on BBC One aim to present two sides of the tale. Written by Chris Chibnall (Doctor Who, Broadchurch), the first film, A Robbers Tale, focuses on Bruce Reynolds (played by Luke Evans), the mastermind behind the robbery, as he assembles his team of associates and as they meticulously plan their execution of the robbery. 
The second film, A Coppers Tale, follows the subsequent investigations led by Detective Chief Inspector Tommy Butler of The Flying Squad (played by Jim Broadbent), whose dogged determination to solve the crime takes over his life.
A Robber's Tale, BBC One, 8.00pm, Wednesday 18 December
A Copper's Tale, BBC One, 8.00pm, Thursday 19 December
Jake & Dinos Chapman – Come and See @ Serpentine Gallery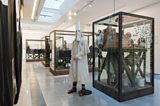 As part of the YBA scene, brothers Jake and Dinos Chapman found celebrity and notoriety alongside Tracey Emin and Damien Hirst when their work was shown at the now infamous Sensation exhibition at the Royal Academy in 1997. Their provocative work has included many shocking images, such as distorted mannequins of children and visions of war featuring mutilated toy soldiers. 
Now, in their first major show at a London museum since 1996, the Serpentine Sackler Gallery surveys their career. Through sculpture, installations, film and prints, the exhibition reflects the brothers' favourite themes of sex, morality, war and consumerism, and highlights the satire and humour which sits alongside the visceral and disturbing nature of much of their work. 
Jake and Dinos Chapman: Come and See is at the Serpentine Sackler Gallery in London until 9 February 2014
Image shows Jake and Dinos Chapman - Installation view, Come and See - copyright Hugo Glendinning.
Primal Scream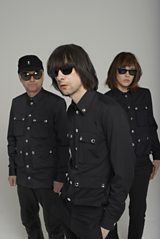 Formed in Glasgow in 1982, Primal Scream are still going strong over 30 years later.  In a career spanning four decades, the band have been awarded the inaugural Mercury Prize (in 1992, for their dance-influenced album Screamadelica) and released a total of ten studio albums, including More Light, earlier this year. 
In June they performed at the Glastonbury Festival and they're currently on a Europe-wide tour.  Tonight Bobby Gillespie and his band perform two tracks in the Review Show studio.   
Image copyright Niall O'Brien.
Credits
| Role | Contributor |
| --- | --- |
| Presenter | Martha Kearney |
| Executive Producer | Pauline Law |
| Producer | Mark Crossan |
| Panellist | Paul Morley |
| Panellist | James Delingpole |