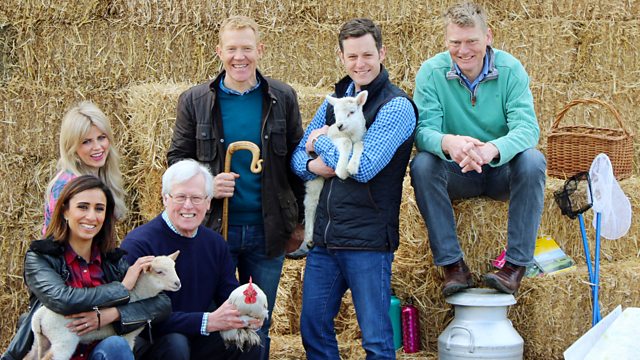 Peak District
The team is in the Peak District, where John Craven looks at the secrets this familiar landscape is hiding deep underground. There's the precious shining mineral called Blue John, of which a new seam has just been discovered, thanks to a family riddle.
In 2014, part of the Tour de France cycle race route will take in the highs of the Peak District. Ellie Harrison tests out part of this challenging route with a seasoned cyclist. Along the way she finds out the history of a very special site where tanks were tested ahead of going to the front in World War II.
Helen Skelton is also in the Peaks, in the village of Tideswell which is trying to persuade local people to buy their food from the village shops. She takes part in a local initiative which teaches people where their food comes from in the countryside, and also learns to shoot at targets and then cook up a delicious game pie.
Over the last few decades more and more of the fish we eat has come from farms. Tom Heap is in Scotland to see fish farming for himself, discover the benefits and find out about the controversy that this relatively new form of farming has caused.
Adam Henson is on Exmoor, helping out with the annual round-up of wild native ponies.
Last on
John and Blue John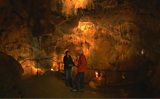 John Craven heads to Treak Cliff Cavern to find out about the rare mineral Blue John.  It is thought that the Peak District is the only place in the world where the stone occurs naturally.  John hears about a lost seam which was only recently rediscovered after a hunt of almost seven decades.  An elderly miner, who was in poor health, spoke of the treasure back in 1945 but died before he could reveal its whereabouts. As John finds out, uncovering this lost seam became a family affair.
Adam's Exmoor gathering
Adam Henson visits the rugged moorlands of Exmoor for a spectacular annual round up of the wild ponies.  The Exmoor is a breed which is close to Adam's heart as he was given some by his dad when he was a boy.  People have come from as far away as France to help gather the herd so the foals can be weaned from their mothers. But before Adam travels to the moors, he assesses the early progress of his autumn oilseed rape crop.
Find out more about the Exmoor Pony
Ellie's Tour de France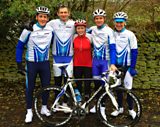 Next year the world's best cyclists will pass through the Peak District as part of the world-famous Tour de France.  They will have to climb Holme Moss Summit which, as Ellie Harrison hears, could be a make or break point in the race.  Ellie is a keen rider but struggles to get up the hill, which is 524m (1,719ft) above sea level.  With legs burning and heart pounding, has she checked that her brakes are off?
Helen's butchery course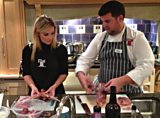 The village of Tideswell is embracing the idea of buying local with its own Taste Tideswell brand and a cookery school.  Helen Skelton is getting in on the action by taking part in a new course which teaches people to kill and butcher their own meat.  She tries her hand at clay pigeon shooting before plucking a pheasant then chopping and cooking it.  Helen's then rewarded with a gorgeous meal made with local produce.
Youth rangers
Dove Stone Reservoir, in the north west of the Peak District National Park, was built in the 1960s to collect water from surrounding moorlands.  Today it is also a RSPB nature reserve and every week a group a young people come to discover more about the area.   Ellie helps the Dove Stone Youth Rangers, who are all 11 to 19 years old, fell trees and watches some fascinating wildlife footage they have caught on camera traps.  She also hears that being part of the group has helped change their view of the countryside and proved impressive in a university interview.
Fish farming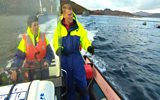 Tom Heap heads to Scotland to look at an industry that is gaining popularity worldwide - fish farming. Tom visits a Scottish loch where tens of thousands of salmon are currently developing in large pens. He also investigates some of the more controversial aspects of the industry. 
Credits
| Role | Contributor |
| --- | --- |
| Presenter | John Craven |
| Presenter | Ellie Harrison |
| Presenter | Tom Heap |
| Presenter | Adam Henson |
| Series Producer | Teresa Bogan |