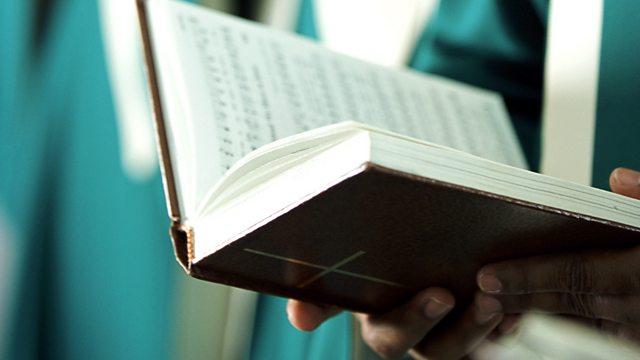 05/12/2013
A space for spiritual reflection with a bible reading, prayer and a range of Christian music.
Theme: The Coming of Christ as Saviour
Led by Sister Gemma Simmonds.
The God Whom Earth And Sea And Sky (Puer Nobis)
Luke 1:26-38
Gabriel's Message (Basque carol arr. Willcocks)
For Mary, Mother of Our Lord (St Botolph)
Director of Music: Christopher Stokes.
This morning the service comes live from Emmanuel Church Didsbury, the home of the Daily Service. The Daily Service Singers are a group of musicians based in the North West who come together for this live transmission. Many are church musicians who love contributing to this unique Radio 4 act of worship.
Last on
The Message of an Angel - led by Sr Gemma Simmonds CJ
The Message of an Angel
Presenter: Sr Gemma Simmonds CJ
Luke 1:26-38
In the sixth month the angel Gabriel was sent by God to a town in Galilee called Nazareth, to a virgin engaged to a man whose name was Joseph, of the house of David. The virgin's name was Mary.  And he came to her and said, 'Greetings, favoured one! The Lord is with you.' But she was much perplexed by his words and pondered what sort of greeting this might be. The angel said to her, 'Do not be afraid, Mary, for you have found favour with God.  And now, you will conceive in your womb and bear a son, and you will name him Jesus. He will be great, and will be called the Son of the Most High, and the Lord God will give to him the throne of his ancestor David.  He will reign over the house of Jacob for ever, and of his kingdom there will be no end.'  Mary said to the angel, 'How can this be, since I am a virgin?' The angel said to her, 'The Holy Spirit will come upon you, and the power of the Most High will overshadow you; therefore the child to be born will be holy; he will be called Son of God.  And now, your relative Elizabeth in her old age has also conceived a son; and this is the sixth month for her who was said to be barren.  For nothing will be impossible with God.' Then Mary said, 'Here am I, the servant of the Lord; let it be with me according to your word.' Then the angel departed from her.
Mary's ready response to the angel Gabriel's news teaches us how to react to God's calling in our own lives.  It's so important to keep ourselves available so that when God needs us we are ready.  No one person is individually responsible for the success or failure of spreading God's kingdom, but God's great sense of order and timing can be aided or hindered by an individual's response.  What began with Mary's 'Yes' enabled the next great stage of God's salvation to be accomplished.  And it's to be continued in our lives too.  Each of us is invited in a unique way to engage our life's energy in the great venture of making God's intentions a reality in the world.
Featured in...
Join Sunday Worship and the Daily Service as they celebrate the season of Advent.