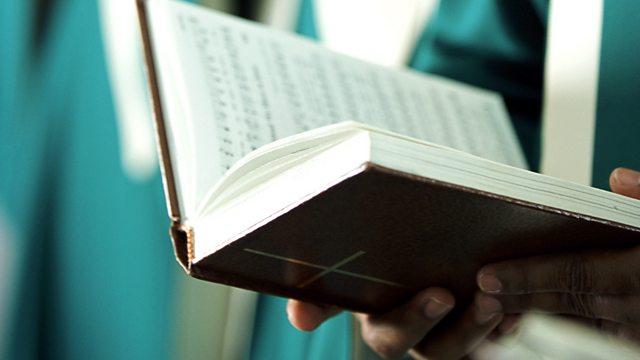 04/12/2013
A space for spiritual reflection with a bible reading, prayer and a range of Christian music.
Theme: The Coming of Christ as Saviour
Led by the Rev Ernest Rea.
Let All Mortal Flesh Keep Silence (arr Robinson)
Isaiah 40:6-11
How like an angel came I down (Archer)
Tell Out My Soul (Woodlands)
With the Choir of Derby High School
Director of Music: Ed Temple.
Organist: Paul Marshall.
This morning the service comes live from Emmanuel Church Didsbury, the home of the Daily Service.
Last on
Proclaim the Good News - led by The Rev Ernie Rea
Proclaim the good news
Presenter: The Rev Ernie Rea

Isaiah 40:6-11
A voice says, 'Cry out!' And I said, 'What shall I cry?' All people are grass,  their constancy is like the flower of the field.  The grass withers, the flower fades, when the breath of the Lord blows upon it; surely the people are grass. The grass withers, the flower fades; but the word of our God will stand for ever. Get you up to a high mountain, O Zion, herald of good tidings; lift up your voice with strength, O Jerusalem, herald of good tidings, lift it up, do not fear; say to the cities of Judah, 'Here is your God!' See, the Lord God comes with might, and his arm rules for him; his reward is with him, and his recompense before him. He will feed is flock like a shepherd; he will gather the lambs in his arms, and carry them in his bosom, and gently lead the mother sheep.
Although the landscape is far from promising and much has to be done before God's highway is complete, the prophet Isaiah's message here is of great joy.  The people are given comfort and consolation because turning towards God and away from sin has put them in a right relationship with their creator.  All their hard work will now be positive: they will be working with God instead of against him.  And this is the spirit in which we're urged to prepare for the coming of our Lord.  Having faced up to our faults and failures and resolving to make amends, we can get excited about the highway we're building and the dazzling glory of our God that will be revealed when it is finished.
Featured in...
Join Sunday Worship and the Daily Service as they celebrate the season of Advent.