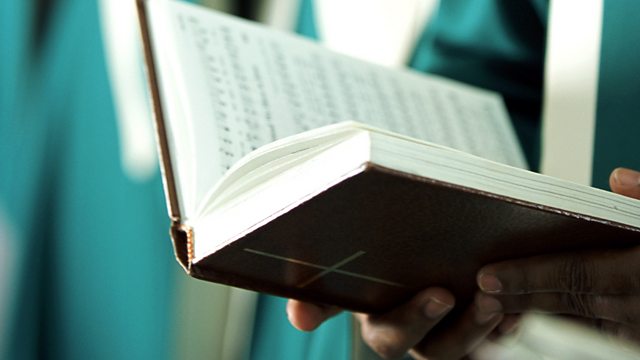 03/12/2013
A space for spiritual reflection with a bible reading, prayer and a range of Christian music.
Theme: The Coming of Christ as Saviour
Led by Canon Chris Chivers.
Thy kingdom come! on bended knee (Irish)
Mark 13: 3-11, 23-27
I look from afar (Advent Responsory)
Lo! he comes with clouds descending (Helmsley).
Last on
The Promise of His Coming - led by Canon Chris Chivers
The Promise of His Coming
Presenter: Canon Chris Chivers
Mark 13:3-11,24-27
When he was sitting on the Mount of Olives opposite the temple, Peter, James, John, and Andrew asked him privately, 'Tell us, when will this be, and what will be the sign that all these things are about to be accomplished?'  Then Jesus began to say to them, 'Beware that no one leads you astray.  Many will come in my name and say, "I am he!" and they will lead many astray.  When you hear of wars and rumours of wars, do not be alarmed; this must take place, but the end is still to come.  For nation will rise against nation, and kingdom against kingdom; there will be earthquakes in various places; there will be famines. This is but the beginning of the birth pangs. 'As for yourselves, beware; for they will hand you over to councils; and you will be beaten in synagogues; and you will stand before governors and kings because of me, as a testimony to them.  And the good news must first be proclaimed to all nations.  When they bring you to trial and hand you over, do not worry beforehand about what you are to say; but say whatever is given you at that time, for it is not you who speak, but the Holy Spirit.
The experience of feeling overwhelmed by disaster is a common one.  It can so often seem like one calamity after another – and every generation feels that their problems are unique and critical.  Jesus insists that earthquakes, war and famine are not the end of the world.  When that day comes, the Son of Man will appear to gather the righteous from every corner of the world.  It's picture language of a dramatic kind but at its heart lies the essential truth that our final salvation won't depend on our intelligence, knowledge or power but on the spiritual qualities of love, forgiveness and compassion we've seen in Jesus Christ.
Featured in...
Join Sunday Worship and the Daily Service as they celebrate the season of Advent.