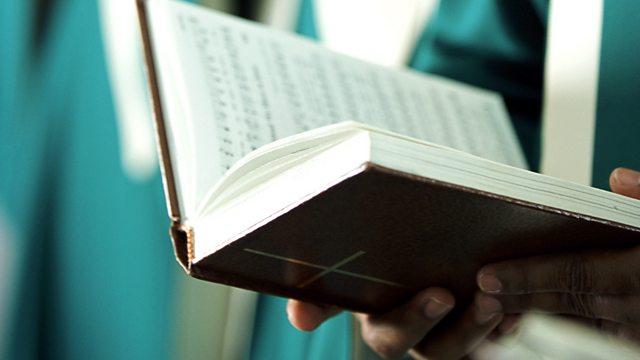 02/12/2013
For live and listen again please follow the link at the top of this page.
A space for spiritual reflection with a bible reading, prayer and a range of Christian music from St German's Church, Cardiff, led by the Rev'd Roy Jenkins.
The Welsh Chamber Singers directed by Avril Harding.
Organist John Cheer.
Reading - Daniel 7:9-10, 13-14
Hail to the Lord's Anointed CRUGER
Hark, the Glad Sound BRISTOL
Jesus Shall Reign DUKE STREET.
Last on
Daniel's vision of the Son of Man - led by The Rev Roy Jenkins
Daniel's vision of the Son of Man     
Presenter: The Rev Roy Jenkins
Daniel 7:9-10, 13-14
As I watched, thrones were set in place, and an Ancient One took his throne; his clothing was white as snow, and the hair of his head like pure wool; his throne was fiery flames, and its wheels were burning fire.  A stream of fire issued and flowed out from his presence. A thousand thousand served him, and ten thousand times ten thousand stood attending him. The court sat in judgement, and the books were opened. As I watched in the night visions, I saw one like a human being[coming with the clouds of heaven. And he came to the Ancient One and was presented before him. To him was given dominion and glory and kingship, that all peoples, nations, and languages should serve him. His dominion is an everlasting dominion that shall not pass away, and his kingship is one that shall never be destroyed.
The book of Daniel contains a vivid picture of the court of heaven and one of the earliest references to the enigmatic figure of the Son of Man who stands before God, the ancient of Days.  Perhaps because the title 'Son of Man' had religious roots rather than political overtones there's evidence to suggest that Jesus used it to refer to himself.  So he stands there, gathering the righteous to himself – a reminder that at the end of the day humanity will be judged in the light of the life, death and resurrection of Jesus our Saviour, for that is the measure of God's judgement.
Featured in...
Join Sunday Worship and the Daily Service as they celebrate the season of Advent.