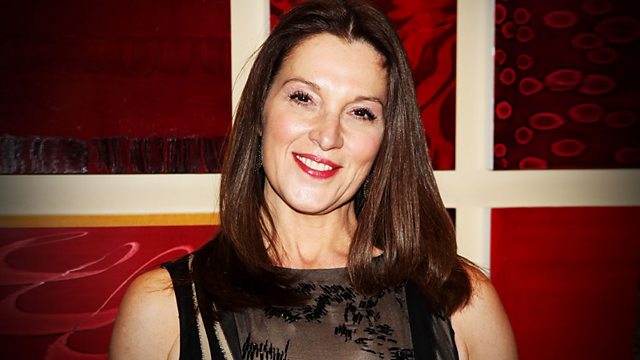 Weekend Woman's Hour: Barbara Broccoli; Jeff Kinney; Mona Eltahawy
Listen in pop-out player
Barbara Broccoli on her love of Bond movies and on producing Strangers on a Train for theatre. Jeff Kinney on his Diary of a Wimpy Kid and the books that get boys reading. Who are the new role models for girls? We discuss with Rachel de Souza, Chief Executive of the Inspiration Trust and Holly Baxter from the Vagenda blog. The journalist Mona Eltahawy tells us about the worrying reality for women in Egypt and her hopes for the country. Randi Zuckerberg demystifying technology with her book Dot Complicated. Is it ever okay for audiences at meetings held in universities to be segregated? Sara Khan and Reyana Patel give us their views.
Presenter: Jenni Murray
Producer: Rebecca Myatt
Output Editor: Jane Thurlow.
Last on
Barbara Broccoli
Taking over the family business is fraught at the best of times, with generation-to-generation comparisons, expectations, and the weight of history on your shoulders. All the more so when your family is the Broccoli dynasty, and your business is James Bond.  Barbara Broccoli OBE defied all criticism and has successfully taken over from her father 'Cubby' Broccoli to run the Bond empire with her brother, Michael G Wilson, and carry it triumphantly well into the 21st Century. Now she has turned her hand to theatre productions, and is currently at the helm of Strangers On A Train in the West End of London. Barbara Broccoli joined Jenni on Wednesday to talk about nepotism, feminism, and the dangers of talking too openly to strangers on trains.
Strangers On A Train is at the Gielgud Theatre in London
New Breed Of Role Models For Young Women
Young women are often told they should strive to be like Jessica Ennis, Karren Brady, or Malala, but increasingly they are identifying with more 'normal', less aspirational women. In a survey of female 18 to 25 year olds, the woman with the most admired personality was reality TV star Charlotte Crosby, and there is a trend for following TV programmes like Lena Dunham's Girls, about young women who lack direction, live for the moment, and are comfortably open about their failures and inadequacies. Should we be worried? Jane talked to journalist Holly Baxter and Rachel de Souza, Chief Executive of the Inspiration Trust.
Mona Eltahawy
Three years on from the Arab Spring, a poll recently conducted by the Thomson Reuters Foundation has concluded that Egypt is officially the worst country for women's rights in the Arab League - even taking into account Syria. On Sunday, a 50 member committee approved a new draft constitution for Egypt. Today it will be ratified by the interim president, who is expected to announce a date for it to be put to a referendum early next year. So how much difference is this new constitution likely to make to women in Egypt? US-Egyptian journalist, Mona Eltahawy, speaking at today's Trust Women Conference in London, joined Jane to give an insight into what her fellow countrywomen are going through. 
DotComplicated
Randi Zuckerberg, former spokeswoman for Facebook and sister to Facebook founder Mark, shares her advice on how to cope with the fast growing technology and social media of our hyper-connected world. From turning smartphones off in the bedroom to registering a domain name for your unborn baby, the new moral dilemmas that are emerging are explored in her new books, self-help guide DotComplicated for adults, and picture book Dot for children.
Dot Complicated (for adults) and Dot (for children) are published by Bantam.
University Gender Segregation
The voice of British universities, Universities UK, recently issued guidance to help universities manage controversial external speaker events on campus. When addressing the question of gender segregation at talks, the guidance suggests it's legal for universities to allow separation by gender, as long as the two groups of men and women sit side by side, and not one in front of the other. The publication was met with outrage. So is gender segregation at university talks a form of 'gender apartheid'? Or could the seating arrangement actually encourage some women to engage in university life? Sara Khan is director of Inspire, a counter-extremism and women's rights organisation. Reyhana Patel is a journalist and researcher specialising in issues surrounding Muslim communities.
Jeff Kinney
Jeff Kinney is the author of The Diary of a Wimpy Kid, which has sold 115 million books worldwide. He has been an advisor on children and reading to the last three US Presidents and he was asked to give a speech to the most recent Davos meeting. He is widely credited with getting 'reluctant readers' to read…..although he says that when people say 'reluctant readers' they really mean boys. There is no doubt that boys love Kinney's Greg Heffley character - a hapless, wimpy, self-obsessed 12 year old. On Friday Jenni asked him why. 
Getting Boys to Read
The 2012 Boys' Reading Commission report, set up by the All-Party Parliamentary Literacy Group and the National Literacy Trust, found that boys were falling behind in reading.  Why?  Because many felt it was an activity 'for girls'.  The report warned that this 'gender gap' in reading was widening.  It found that by the time they start school, many boys are already lagging behind in literacy -  and by the time they reach GCSE level they are falling behind girls in English by 14%. To discuss some of the reasons for this and how we can encourage boys to enjoy reading Jenni was joined by Jeff Kinney and Abigail Moss, Deputy Director of the National Literacy Trust.
Credits
| Role | Contributor |
| --- | --- |
| Presenter | Jenni Murray |
| Editor | Jane Thurlow |
| Producer | Rebecca Myatt |
| Interviewed Guest | Barbara Broccoli |
| Interviewed Guest | Rachel de Souza |
| Interviewed Guest | Holly Baxter |
| Interviewed Guest | Mona Eltahawy |
| Interviewed Guest | Randi Zuckerberg |
| Interviewed Guest | Sara Khan |
| Interviewed Guest | Reyhana Patel |
| Interviewed Guest | Jeff Kinney |
| Interviewed Guest | Abigail Moss |