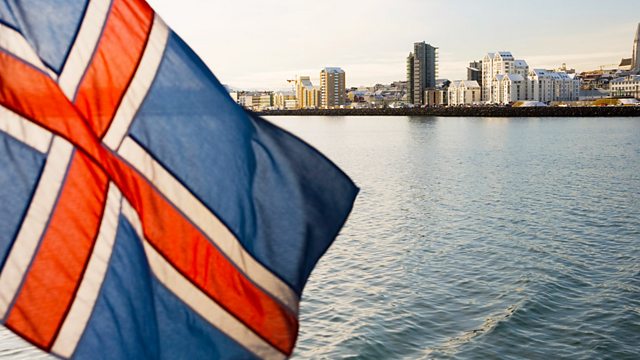 Donald Macleod experiences the vast sonic eruptions of the 'original' geyser at Geysir, Iceland - and introduces works by Jón Leifs portraying his nation's unique landscape.
For more than a millennium, Iceland's composers have drawn upon the sounds of its unique geology: sounds created in a glacial, geothermal landscape like nowhere else on earth. Searing water explodes from fissures; the earth steams spongily underfoot; vast, electric-blue hunks of solid ice crack and collide as they bob down otherwise silent fjords. Yet Iceland's classical music tradition remains barely known. This week, Donald Macleod explores the landscapes and vistas of the world's most northerly island nation - to discover its unique musical culture.
Jón Leifs' symphonic poem "Geysir" portrays the awe-inspiring geothermal eruption of one of his nation's most famous natural wonders. Donald Macleod pays a visit to Geysir to introduce Leifs' own highly-imaginative musical explosion, before discussing the composer's dramatic, experimental organ concerto - described by one critic as "like Bach walking on the tundra" - with the musicologist Árni Heimir Ingólfsson. He ends with a series of pieces by Icelandic music's provocateur-in-chief, the wickedly mischievous Atli Heimir Sveinsson - a composer able and willing to compose in almost any style, from Baroque to avant-garde to hip hop - ending with Sveinsson's bizarre and beguiling postmodernist fantasy, "Icelandic Rap".
Jón Leifs: Geysir, Op 51
Iceland Symphony Orchestra, Osmo Vänskä (conductor)
Jón Leifs: Two Songs, Op 15
Igveldur Yr Jonsdóttir (mezzo)
Iceland Symphony Orchestra, Anne Manson (conductor)
Jón Leifs: Organ Concerto, Op 7
Björn Steinar Sólbergsson (organ)
Iceland Symphony Orchestra, En Shao (conductor)
Atli Heimir Sveinsson: Intermezzo No 1 (Dimmalimm)
Benedikte Johansen (flute), Thomas Jensen (harp)
Atli Heimir Sveinsson: Af hreinu hjarta
Suzanne Kessel (piano)
Atli Heimir Sveinsson: Icerapp
Reykjavik Chamber Orchestra, Bernharður Wilson (conductor).
Last on