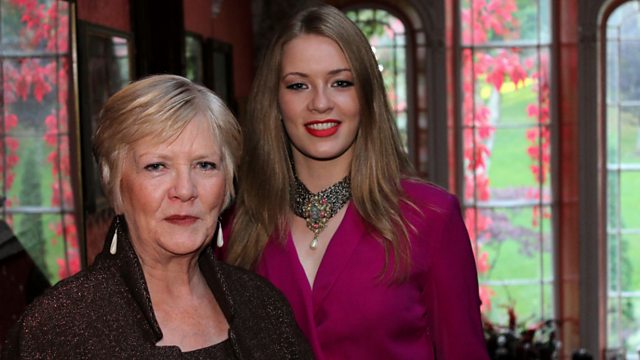 Ann an cuideachd an couturier ainmeil Albannach Sandra Mhoireach, bi aoighean a' cruinneachadh ann an Taigh Aigas, faisg air a' Mhanachain air a' Ghàidhealtachd. Gach seachdain coinnichidh Sandra ri daoine aig a bheil ùidh mhòr ann an aodach.
Bidh i a' coimhead ri mar a tha stoidhle air atharrachadh thairis air na ginealaichean - bho vintage gu punk, agus a' faighinn a-mach ciamar a tha daoine a' cruthachadh stoidhle sònraichte dhaibh pèin. San dàrna phrògram tha Sandra còmhla ri Magaidh agus Fiona NicChoinnich.
'Se cleasaiche a th'ann am Magaidh, agus preseantair telebhisean agus ceòladair a th'ann am Fiona. Innsidh iad dhuinn mu na diofar ìomhaighean a tha'd a' cleachdadh airson na diofar obraichean aca. Cuideachd còmhla ri Sandra bidh Alan Grann, fear le stoidhle gu tuir sonraichte.
Agus tha aobhar aige, tha Alan ag obair aig Caisteil Skibo, ag innse sgeulachdan agus cuir tìde seachadh le na h-aoighean. Duine iongantach a tha toirt gàire air gach duine tha coinneachadh ris.
Coutourier Sandra Murray, explores clothes and what people say to the world through what they wear. Sandra is joined in the second programme by Maggie and Fiona Mackenzie. Maggie is an actress and Fiona is a television presenter and musician.
They tell us of the different images they create for their different types of work. Sandra will also be joined by Alan Grant, a man with a unique sense of style who has a reason to stand out for the crowd. Alan works at Skibo Castle, a raconteur and 'Highland Eccentric' who lights up every room he enters.
Last on
Credits
| Role | Contributor |
| --- | --- |
| Presenter | Sandra Murray |
| Interviewed Guest | Maggie Mackenzie |
| Interviewed Guest | Fiona MacKenzie |
| Interviewed Guest | Alan Grant |