Michael Arditti, Judith Kerr
Richard Coles and Suzy Klein meet novelist Michael Arditti who talks about faith and the novel, nearly dying after eating goats cheese and his travels around the Philippines researching a book, enjoy the Inheritance Tracks of Judith Kerr who wrote and illustrated, amongst other things, The Tiger Who Came To Tea, talk to Melvyn Evans who fought in Aden in the 1960's and realised, 40 years later, that he was suffering from Post Traumatic Stress Disorder and hear from Joe Glackin, a former priest who worked in Liberia with child soldiers and street children. There's more travel with Professor Cathy Warwick CBE, General Secretary of the Royal College of Midwives, who organises midwifery tours of South Africa, a celebration of Martin Wright, the inventor of the peak flow meter, and JP Devlin travels to the recently announced City of Culture 2017, Hull, where he meets some of the locals.
Producer: Chris Wilson.
Last on
Guest: Michael Arditti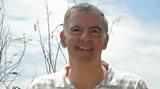 Writer Michael Arditti (The Celibate, Easter, Jubilate) talks about his life and work, the falling out of fashion, as he sees it, of novels about Christian faith and his time in the Philippines travelling and researching his latest  book A Breath Of Night.
Crowdscape: Hull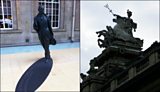 After the recent announcement that Hull is to be the 'City of Culture' in 2017, JP Devlin visits the East Yorkshire coast and speaks to some of its inhabitants.   
Interview: Joe Glackin discusses working with child soldiers in Liberia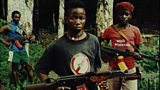 Joe Glackin was a Catholic  priest who spent 12 years in Liberia working with street children and child soldiers.  He's now  left the priesthood and  works for an NGO focused on  Sudan. He talks about his time in Liberia, which inspired his first novel A Lone Star Weeps.
Feature: Melvyn Evans on PTSD
Melvyn Evans joined the Coldstream Guards and fought in Aden in the mid 1960's. A lorry he was travelling in hit a mine and he was invalided out of the army. For 40 years afterwards he was often depressed and unable to talk about his time there. A chance meeting in a pub led to a diagnosis of PTSD (post traumatic stress disorder) and Melvyn had counselling which helped  him manage a lifelong burden. Melvyn got help through a specialist charity called PTSD Resolution but there are a number or organisations including the NHS – your GP in the first instance- that help service personnel and others with PTSD and of course if you think you may be suffering with PTSD you need to seek specialist help as soon as you can.
Travel: Professor Cathy Warwick on midwifery in South Africa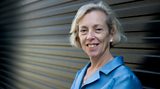 Cathy Warwick CBE
is General Secretary of the Royal College of Midwives and leads
tours of midwives
to South Africa for both leisure and learning about the culturing differences within the profession.
Inheritance Tracks: Judith Kerr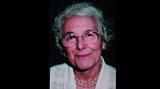 Judith Kerr
is a children's writer and illustrator whose books 'The Tiger Who Came for Tea' and 'When Hitler Stole Pink Rabbit' have been delighting children and young people for many years. She inherits the Johannes Brahms Lullaby
Wiegenlied
 and
It Ain't Necessarily So
by George Gershwin.
Thing About Me: Peak Flow Meter
07 December 2013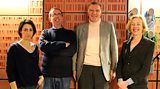 Suzy Klein, Rev Richard Coles, Michael Arditti and Professor Cathy Warwick CBE
Credits
| Role | Contributor |
| --- | --- |
| Presenter | Richard Coles |
| Presenter | Suzy Klein |
| Interviewed Guest | Michael Arditti |
| Interviewed Guest | Judith Kerr |
| Actor | Melvyn Evans |
| Interviewed Guest | Joe Glackin |
| Interviewed Guest | Cathy Warwick |
| Producer | Chris Wilson |