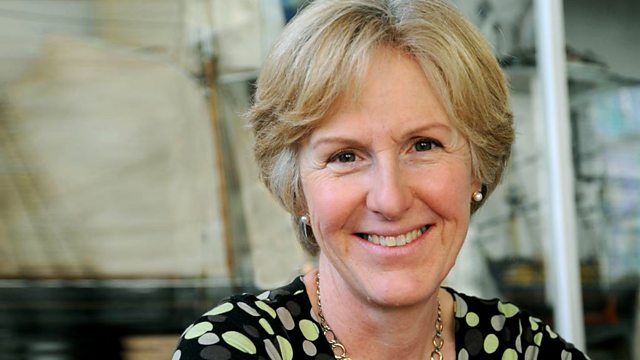 A Wagner special with Violeta Urmana. Good Friday music from Parsifal, Siegfried-Idyll, and Gotterdammerung (excerpts) with Radio France Philharmonic, conducted by Marek Janowski. Presented by Catriona Young.
1:01 AM
Wagner, Richard [1813-1883]
Good Friday music
Stephen Gould (tenor), Albert Dohmen (bass), Radio France Philharmonic Orchestra, Marek Janowski (conductor)
1:16 AM
Wagner, Richard [1813-1883]
Siegfried-Idyll for small orchestra
Radio France Philharmonic Orchestra, Marek Janowski (conductor)
1:34 AM
Wagner, Richard [1813-1883]
Gotterdammerung excerpts;
Violeta Urmana (soprano), Radio France Philharmonic Orchestra, Marek Janowski (conductor)
2:13 AM
Chopin, Fryderyk [1810-1849]
Sonata for cello and piano (Op.65) in G minor;
Antonio Meneses (cello), Menahem Pressler (piano)
2:39 AM
Touchemoulin, Joseph (1727-1801)
Sinfonia in C major
Neue Düsseldorfer Hofsmusik
3:01 AM
Schubert, Franz (1797-1828)
Symphony no.6 in C major, (D.589)
Finnish Radio Symphony Orchestra, Jukka-Peka Saraste (conductor)
3:33 AM
Schumann, Robert (1810-1856)
Piano Trio No.1 in D minor (Op.63)
Kungsbacka Trio
4:04 AM
Albinoni, Tomasi (1671-1750)
Oboe Concerto in D minor (Op.9 No.2)
Carin van Heerden (oboe), L'Orfeo Barockorchester, Michi Gaigg (director)
4:16 AM
Fauré, Gabriel (1845-1924)
Nocturne No.1 in E flat minor (Op.33 No.1)
Jean-Yves Thibaudet (piano)
4:25 AM
Bach, Johann Sebastian (1685-1750)
Fürchte dich nicht, ich bin bei dir (BWV.228)
Tafelmusik Chamber Choir, Tafelmusik Baroque Orchestra, Ivars Taurins (conductor)
4:33 AM
Enescu, George (1881-1955)
Concert Piece for viola and piano
Tabea Zimmermann (viola), Monique Savary (piano)
4:43 AM
Haydn, Joseph (1732-1809) or possibly Pleyel, Ignace (1757-1831) arr. Perry, Harold
Divertimento (Feldpartita) (H.2.46) in B flat major arr. for wind quintet
Bulgarian Academic Wind Quintet
4:52 AM
Svendsen, Johan (1840-1911)
Norsk kunstnerkarneval (Op.14)
Norwegian Radio Orchestra, Ari Rasilainen (conductor)
5:01 AM
Bree, Johannes Bernardus van (1801-1857)
Overture 'Le Bandit'
Netherlands Radio Symphony Orchestra, Jac van Steen (conductor)
5:08 AM
Pärt, Arvo (b. 1935)
Spiegel im Spiegel
Morten Carlsen (viola), Sergej Osadchuk (piano)
5:16 AM
Haydn, (Johann) Michael (1737-1806)
Cantata: Lauft, ihr Hirten allzugleich (Run ye shepherds, to the light) for 4 voices, strings and bc
Salzburger Hofmusik
5:25 AM
Beethoven, Ludwig van (1770-1827)
8 Variations on Mozart's 'La ci darem la mano' (Wo0.28) arranged for oboe and piano
Hyong-Sup Kim (oboe), Ja-Eun Ku (piano)
5:35 AM
Salieri, Antonio (1750-1825)
Sinfonia in D major 'Veneziana'
Stavanger Symphony Orchestra, Fabio Biondi (conductor)
5:45 AM
Debussy, Claude (1862-1918)
Danse sacrée et danse profane for harp and strings
Eva Maros (harp), orchestra and conductor not credited (probably Hungarian Radio Orchestra)
5:56 AM
Grieg, Edvard Hagerup [1843-1907]
4 piano pieces (Op.1)
Christian Ihle Hadland (piano)
6:09 AM
Fasch, Johann Friedrich (1688-1758)
Lute Concerto in D minor
Konrad Junghänel (lute), Music Antiqua Köln, Reinhard Goebel (director)
6:23 AM
Anon (C.18th)
Motet: In deliquio amoris for soprano, strings and continuo
Claire Lefilliâtre (soprano), Currende, Erik van Nevel (conductor)
6:38 AM
Mozart, Wolfgang Amadeus (1756-1791)
Concerto for violin and orchestra no. 1 (K. 207) in B flat major
Director: James Ehnes (violin), Mozart Anniversary Orchestra.
Last on
More episodes
Next
You are at the last episode