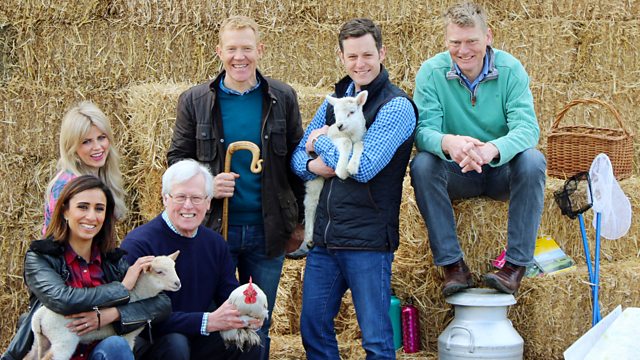 Compilation - Our Living Laboratory
Countryfile looks at the part the landscape has played in making scientific breakthroughs, and the way in which such breakthroughs have changed our understanding of the land we live in.
John Craven heads to Wytham Woods, Oxford University's 'laboratory with leaves'. It is 70 years since Charles Elton first made scientific observations in these woods; John walks in his footsteps to find out how Elton's work still plays a part in shaping our ideas of the world, and meets the scientists carrying his work forward.
John also looks back at the best of Countryfile's forays into the world of science, including Matt Baker's look at the pioneer of natural history; Gilbert White and Julia Bradbury's trip to the coast to uncover the story of the palaeontologist and fossil collector, Mary Anning; the time when Adam learned how Hollywood wizardry is helping scientists breed the perfect pig; and when Tom Heap found out how robotics could transform farming in the future.
Last on
Wytham Woods
Wytham Woods, a living lab owned by Oxford University, was made famous by Charles Elton, one of Britain's foremost ecologists. John Craven meets Clive Hambler who shows him, with the help of a mist sprayer, how Elton proved that animals rely on dead plant structures to survive. Oxford student Chris Jeffs shows John his soil core experiments, which display how wild flower seeds are able to lie dormant in the ground for decades before coming to life.
IMAGE:  John and Clive Hambler
Dead wood & leaves
Keith Kirby has been surveying the volume of dead wood lying in areas of Wytham Woods since the 1980s, carrying on Charles Elton's original work. John finds out how to measure the amount of wood on the floor of Wytham and learns how important the woodland canopy is for buffering plants against the effects of climate change. Meanwhile, Emma Sayer is investigating the "priming effect" in forests - when an abundance of leaves fall to the ground after a drought or storm and an unusual amount of CO2 is released from the soil as a result. John witnesses the effect, as carbon monitoring machines on the ground at Wytham measure the difference in carbon emitted from bare and leaf covered plots. 
Tweet networking
John meets Colin Garroway and Josh Firth, who are observing the effects of predation on birds' social networks. He joins them as they set up a fake sparrowhawk to ambush birds on an experimental feeder. They use the sparrowhawk to find out how the birds interact with their peers and act when in mated pairs compared to groups of singletons.
Julia explores 'fossil town'
Julia Bradbury is in Lyme Regis searching for fossils on the Jurassic Coast. She meets geologist Paddy Howe on Charmouth beach. He helps her to find a fossilised ammonite - an ancient shellfish which he takes back to his workshop to polish for her. Julia then steps back in time to rediscover Lyme Regis's most important palaeontologist, Mary Anning. She talks to Cardiff Museum's Tom Sharpe about Mary's difficulty achieving recognition in the 19th Century for her fossil finds, which were often new to science. Then Julia heads over to Monmouth beach to survey fossil erosion on the Jurassic Coast using a mini helicopter.
Weight of the world
Jules Hudson heads to central Scotland on a mission to discover the weight of the world. He finds out about a team of 18th Century British scientists, led by Nevil Maskelyne, who in 1774 used a mountain in Scotland to make a first attempt to weigh the world. Maskelyne, the then Astronomer Royal, spent 17 weeks living in a bothy halfway up the mountain Schiehallion, taking measurements under the stars to calculate the weight of the earth. He wasn't far from calculating the correct weight either as Jules discovers.
Gilbert, the first ecologist
Matt Baker follows in the footsteps of the naturalist Gilbert White. Gilbert lived in the tiny Hampshire village of Selborne in the eighteenth century and taught us how to view the natural world with fresh eyes. His humorous observations of flora, fauna and wildlife even inspired Charles Darwin.
Future farming
A growing global population and a changing climate mean that farmers of the future will have to produce more food, in tougher conditions. It is hoped the world of scientific research can help and this week Tom Heap explores the world of automated farming, meeting students who are creating a new generation of agricultural robots – and a man who has developed a robotic hand that can pick fruit without bruising it.
Adam's Farm
Hollywood is a dream factory where through remarkable technology they can make almost anything appear to happen. Adam Henson may not be seeing pigs fly, but he will be finding out how a team from Newcastle University are using special effects technology to help improve animal welfare. He'll see for himself how computer software developed for some of the cinema's biggest blockbusters, together with some reflective stickers, are being used to help resolve the issue of lameness in pigs.
Credits
| Role | Contributor |
| --- | --- |
| Presenter | Matt Baker |
| Presenter | Julia Bradbury |
| Presenter | Tom Heap |
| Presenter | Adam Henson |
| Series Producer | Teresa Bogan |