World Cup travel prices
Friday is the World Cup draw. We'll be looking at ticket and travel prices and the man who didn't know that his face had been printed on a t-shirt and sold around the world by a major high street retailer.
And gift cards are a great present and no doubt there will be many under Christmas trees this year. But what happens when someone 'steals' your balance and you're left red faced at the till?
Last on
Richard Elsby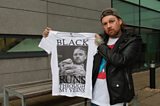 Richard Elsby, who found his face emblazoned on the front of a T shirt on sale all over the world.