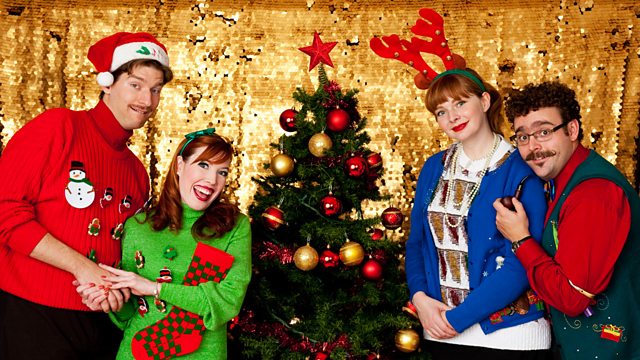 Women in Film; Christmas Jumpers
Listen in pop-out player
Christmas jumpers: faux pas to fashion essential. Fashion writer Hannah Rochelle from InStyle magazine tells on how robins and reindeers have moved from novelty, through irony to this season's must have item. Writer Abi Morgan and director, Susanna White discuss the recent BFI report which shows female screenwriters outperforming men at the box office. An asylum seeker tells us her experience of Yarl's Wood immigration centre and we speak to immigration lawyer, Harriet Wistrich about the issues. Gender segregation at university - is it ever okay? Sara Khan, Director of Inspire and journalist Reyhana Patel discuss.
Presenter: Jenni Murray
Producer: Rebecca Myatt
Output Editor: Jane Thurlow.
Last on
Women Asylum Seekers And Yarls Wood
According to the most recent Home Office statistics, 6 081 women appealed for asylum in the UK in 2012. Yarls Wood immigration removal centre holds hundreds of immigration detainees, the vast majority of whom are women, including women seeking asylum. In October of this year Yarls Wood was given an unannounced inspection following reports that a woman held at the secure Bedford facility had unwanted sexual contact with at least two male officers last year. The Refugee Council says the UK asylum system not only fails to recognise victims of gender based violence but also puts women at risk of further violence once arriving in the UK. Jenni speaks to a woman asylum seeker who spent over four months at Yarls Wood, and to Harriet Wistrich, a civil lawyer specialising in immigration and detention.
Women Screenwriters And Directors: A Success Story?
According to a recent BFI report, women screenwriters are dramatically outperforming men in film: despite being hugely under-represented in the film industry, nine of the top 12 UK independent films from 2010 to 2012 had a woman writer involved. However, with women writers making up only 18 percent of profitable UK films, and directors even less at 12 percent, do we need to do more to help women thrive in the industry? If women are writing more successful films than their male peers, why does the money back men? And how can we help give female directors and writers their first big break?Jenni talks to award-winning screenwriter Abi Morgan, who penned The Iron Lady amongst many other successful films, and to Susanna White, director of Nanny McPhee And The Big Bang.
Christmas Jumpers
How did the Christmas jumper go from novelty to irony to high fashion? Hannah Rochelle from InStyle magazine tells us why robins and reindeers have become this year's must-have fashion item.
University Gender Segregation
The voice of British universities, Universities UK, recently issued guidance to help universities manage controversial external speaker events on campus. When addressing the question of gender segregation at talks, the guidance suggests it's legal for universities to allow separation by gender, as long as the two groups of men and women sit side by side, and not one in front of the other. The publication was met with outrage – many columnists wrote scathing attacks and an online petition has been building ever since. So is gender segregation at university talks a form of 'gender apartheid,' as some critics have suggested? Or could the seating arrangement actually encourage some women to engage in university life?
Credits
| Role | Contributor |
| --- | --- |
| Presenter | Jenni Murray |
| Interviewed Guest | Harriet Wistrich |
| Interviewed Guest | Abi Morgan |
| Interviewed Guest | Susanna White |
| Interviewed Guest | Hannah Rochelle |
| Interviewed Guest | Sara Khan |
| Interviewed Guest | Reyhana Patel |
| Producer | Rebecca Myatt |
| Editor | Jane Thurlow |