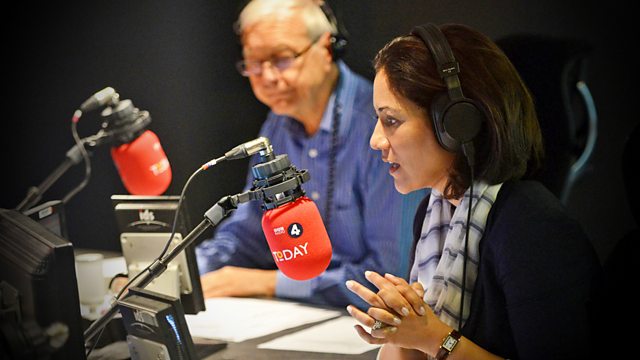 02/12/2013
Morning news and current affairs. Including Sports Desk; Weather; Thought for the Day.
Last on
Life Inside 'Islamic State': Diaries
Monday's running order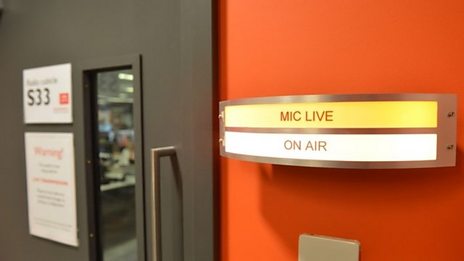 With John Humphrys and Sarah Montague.
Highlights

Listen to clips from this morning's programme below:




Papers

Here's a round-up of this morning's newspaper headlines:




Today's running order

Subject to change




0615

Business news with Simon Jack.

- David Cameron is leading a delegation including the British Chambers of Commerce, the Federation of Small Businesses and the Confederation of British Industries to China. The BBC's chief Business correspondent, Linda Yueh, reports.

- A new report suggests that UK growth will result from an acceleration of exports to traditional countries such as the Eurozone and the US rather than China. Carl Astorri, senior economic advisor to the EY Item Club, discusses.

0709

Ed Miliband is set to dismiss the government's energy levies shake-up as "smoke and mirrors". The BBC's economics editor, Robert Peston, discovers more.

0712

The Sunday Telegraph reported, on 1 December , on a woman who was forced, by social workers, to have a caesarean section. Lucy Scott-Moncrieff, a lawyer who specialises in mental health and human rights cases, examines.

0716

Business news with Simon Jack. Discussing how in a recent report KPMG have cited the UK as the most favourable place for companies to locate, with Jane McCormick, the company's head of tax and pensions.

0719

Prime Minister David Cameron is making his first official visit to China in 3 years. The BBC's China correspondent, Damian Grammaticas, reports.

0734

Dozens of police and protesters have been injured in violent clashes that broke out as people marched in Kiev to call for early elections. Steve Rosenberg, the BBC's Moscow correspondent, finds out more.

0742

The paper review.

0748

Thought for the Day with religious commentator, Clifford Longley.

0751

A ninth body has been found in the wreckage of the Clutha pub in Glasgow after Friday's helicopter crash. The BBC's Scotland correspondent, Colin Blane, reports; plus Nicola Sturgeon, Scotland's deputy first minister, discusses.

0810

The government is continuing to announce changes to green levies. Andrew Warren, director at the Association for the Conservation of Energy, explains; and energy secretary Ed Davey gives his view.

0820

Colin Firth plays a former prisoner of war in the upcoming adaptation of Eric Lomax's memoir The Railway Man. The actor speaks to the Today programme's Sarah Montague about Lomax, following his death last year.

0834

Prime Minister David Cameron is making his first official visit to China in 3 years. The BBC's political editor, Nick Robinson, reports; plus Kerry Brown, professor of Chinese politics at Sydney University, and Richard Ottaway, chair of the foreign affairs select committee, analyse.

0842

The winner of the Turner Prize is set to be announced on Monday. The BBC's arts editor, Will Gompertz, reports live.

0845

Business news with Simon Jack, discussing businesses started by former military personnel with Nigel Ashfield, managing director at Time Investments.

0849

Police in England and Wales are being urged to be more proactive in the way they deal with allegations of rape. Deputy assistant commissioner Martin Hewitt, and Katie Russell, spokesperson for Rape Crisis, examine.

0855

A new study published in Nature Neuroscience, which has shown that mice taught to fear a certain smell could pass that fear onto their offspring, has implications for our understanding of the 'nature vs nurture' debate. Dr Nessa Carey, author of The Epigenetics Revolution, and Prof Marcus Pembrey, emeritus professor of paediatric genetics, debate.
See more live updates