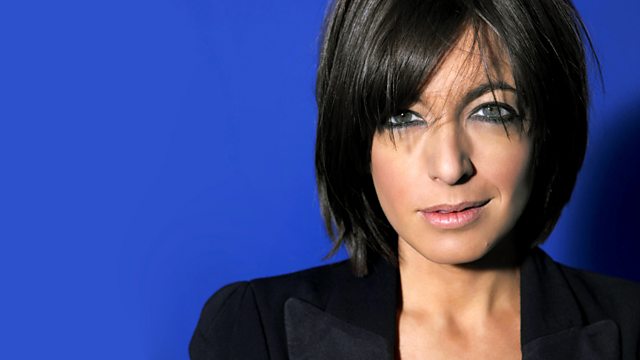 Tony Robinson, Julia Donaldson and Axel Scheffler
Tony Robinson takes to the stage for the first time in 16 years as Kenneth Grahame in the Royal Opera House's Production of Graeme's classic tale - Wind In The Willows - at the Duchess Theatre. Tony's joined by fellow performer Will Kemp (Ratty) and director-choreographer Will Tuckett as they tell Claudia why this story has such an enduring appeal for audiences young and old alike
With Christmas come reindeer, snowmen and red-breasted robins, but this festive season will also see the welcome addition of two less seasonal creatures - The Snail and the Whale. Julia Donaldson and Axel Scheffer - author and illustrator - chat to Claudia about the theatre production of their much loved story at St James' Theatre which will delight children and grown-ups everywhere
Plus films with Peter Bradshaw, books with Alex Heminsley and our weekly arts news round up.
Last on
Sir Tony Robinson, Will Kemp and Will Tucket talk about Wind In The Willows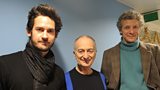 A few years ago the Royal Opera House decided to take the classic Wind In The Willows and throw in some dance and song. The result was a huge success and now the production is back and it stars none other than Sir Tony Robinson.  Tony joins Claudia, along with director and choreographer, Will Tuckett, and ballet man extraordinaire Will Kemp.
Wind In The Willows opens at the Duchess Theatre on 11 December and runs until 1st February 2014.
Actor Guy Henry tells Claudia about playing Captain Hook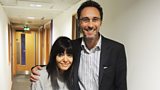 Actor Guy Henry plays one of the all-time great baddies, one-handed pirate, Captain Hook in the RSC's new version of Wendy and Peter Pan.
Wendy and Peter Pan is at the Royal Shakespeare Theatre, Stratford-upon-Avon from the 10th December to 2 March 2014
Julia Donaldson And Axel Scheffler tell Claudia about The Snail and Whale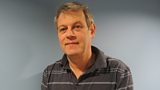 Children's bedtime would be a very different experience without Julia Donaldson and Axel Scheffler. With her words and his drawings, they somehow found the magic that enchants young ones and importantly, also stops parents from going crazy after being asked to read the same story again and again and again! Now their tales have wondered off the page and onto the stage and the latest production is the story of a tiny animal with serious wanderlust called The Snail and Whale.
The Snail And The Whale runs at St James Theatre from the 10 December to the 5th January 2014.
Peter Bradshaw and his film review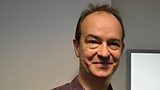 NEBRASKA
Dir: Alexander Payne
Cast: Bruce Dern, Bob Odenkirk and Stacy Keach
Alexander Payne takes the helm for this black and white road trip drama starring Bruce Dern as a tempestuous Missouri father who's convinced he's won a million dollar magazine sweepstakes, and Will Forte as the son who grudgingly agrees to drive him to Nebraska to claim his winnings.
Nebraska is in cinemas now, rated 15
KILL YOUR DARLINGS
Director: John Krokidas
Cast: Daniel Radcliffe, Dane DeHaan, Michael C. Hall
Kill Your Darlings is the previously untold story of murder that brought together a young Allen Ginsberg, Jack Kerouac and William Burroughs at Columbia University in 1944, providing the spark that would lead to their Beat Revolution. This is the true story of friendship and murder that led to the birth of an entire generation.
Kill Your Darlings is out now, certificate 15

OLD BOY
Dir: Spike Lee
Cast: Josh Brolin, Elisabeth Olsen, Samuel L Jackson
Oldboy is a 2013 American remake of the 2003 South Korean cult film. It follows the story of Joe Doucette, a man who is abruptly kidnapped and held hostage for 20 years in solitary confinement, for no apparent reason. When he is suddenly released without explanation, he begins an obsessive mission to find out who imprisoned him, only to discover that the real mystery is why he was set free.
Oldboy is out now, certificate 18

DVD  PROJECT WILD THING

Dir:  David Bond
A documentary about David Bond's attempt to market "nature" as a brand and attempt to get young people to spend more time away from their iPhones and tablets and get into the great outdoors.  . His kids' waking hours are dominated by a cacophony of marketing, and a screen dependence threatening to turn them into glassy-eyed zombies. Like city kids everywhere, they spend way too much time indoors - not like it was back in his day. He decides it's time to get back to nature - literally.
Project Wild Thing is released on DVD next week, certificate PG
Alex Heminsley and her book review
Sycamore Row - John Grisham
Jake Brigance has never met Seth Hubbard, or even heard of him, until the old man's suicide note names him attorney for his estate. The will is dynamite. Seth has left ninety per cent of his vast, secret fortune to his housemaid. The vultures are circling even before the body is cold: the only subject more incendiary than money in Ford County is race, and this case has both. As the relatives contest the will, and unscrupulous lawyers hasten to benefit, Jake searches for answers to the many questions left by Seth Hubbard's death: What made him write that last-minute will leaving everything to a poor black woman named Lettie Lang? Why did he choose to kill himself on the desolate piece of land known as Sycamore Row? And what was it that Seth and his brother witnessed as children that, in his words, 'no human should ever see'? In the long-awaited successor to the novel that launched his career, John Grisham brings us the powerful sequel to A Time to Kill.
Sycamore Row by John Grisham is out now, published by Hodder and Staughton

Letters of Note: Correspondence Deserving of a Wider Audience - Shaun Usher

Letters of Note is a collection of over one hundred of the world's most entertaining, inspiring and unusual letters. From Virginia Woolf's heart-breaking suicide letter, to Queen Elizabeth II's recipe for drop scones sent to President Eisenhower; from the first recorded use of the expression 'OMG' in a letter to Winston Churchill, to Gandhi's appeal for calm to Hitler; and from Iggy Pop's beautiful letter of advice to a troubled young fan, to Leonardo da Vinci's remarkable job application letter.
Letters of Note is out now, published by Unbound
Comfort & Joy by India Knight
Oxford Street, two shopping days left to Christmas, and wife and mum Clara Dunphy is desperately, madly trying to make everything, not perfect, but just right for her extended family on the greatest day of the year. But then she gets distracted
Comfort and Joy is published by Penguin.