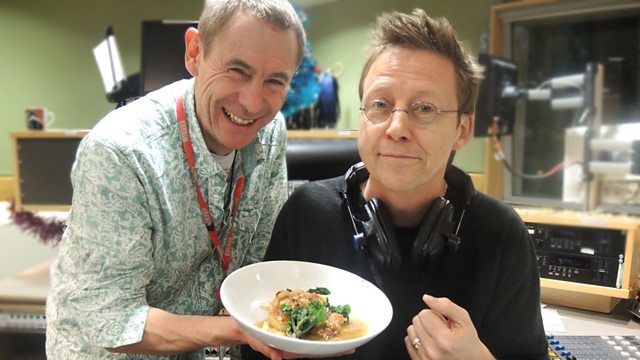 Foodie Thursday
Simon Mayo is joined by our resident chef Nigel Barden for another Foodie Thursday! Plus there's a brand new listener confession for the team to consider - but will they forgive?
Matt has sports news, Rebecca is on the money, and Sally updates the travel.
Last on
Apple Fed Pork, Cooked in Cider & Apple Juice
Pork Chop with Parsley Broth
by James Mackenzie of The Pipe & Glass, Beverley, East Yorkshire 
from 'On the Menu' (Face Publications)
Use a cloudy scrumpy cider & always buy a little more than you need, to have a chilled glass or two with the dish.  This recipe is a real one-pot wonder, very much an Italian-style dish brought back home by using the English smoked bacon & scrumpy cider.
Serves 4
Prep time:  15 mins
Cooking time:  110 mins
Ingredients
4 pork chops
2 white onions
1 leek
2 cloves garlic
1.2L cider (Nigel used 600ml cider & 600ml apple juice)
1L clear chicken stock
8 rashers of smoked bacon (ideally thick cut or buy 200g smoked lardons)
1 Granny Smith apple (or a tart alternative) 
300g white haricot beans, pre-soaked & cooked
1 bunch fresh flat-leaf parsley
Method
1.
Pre-heat the oven to 150C/gas mark 2.
2.
Remove the skin from the chops & colour in a frying pan, then place in a deep, flame-proof, casserole dish.
3.
Sweat the peeled & sliced onions, chopped leek & crushed garlic in the frying pan, deglaze with about 250ml of cider & reduce by half.
4.
Pour the onion mix over the pork & add the rest of the cider, plus the apple juice, & the stock, & bring to the boil.
5.
Chop the smoked bacon into lardons & add to the casserole dish, place a tight-fitting lid on & cook in the oven for 90 mins, depending on the size of the chops.
6.
Cut the apple into small pieces & add to the pot along with the cooked white beans.
7.
Cook for a further 5 mins on the hob, check the seasoning & finish with the chopped parsley.
8.
This dish is perfect served with some crusty bread or lovely buttered greens.
Nigel's Top Tips
Use a cloudy scrumpy cider & always buy a little more than you need, to have a chilled glass, or two with the dish. 
Make sure your casserole dish, particularly if it's Le Creuset (cast iron is fine), can be place directly on a hob.
This dish can easily be cooked using only cider – 1.2L (so there's bit left over), or apple juice if you prefer it alcohol free.