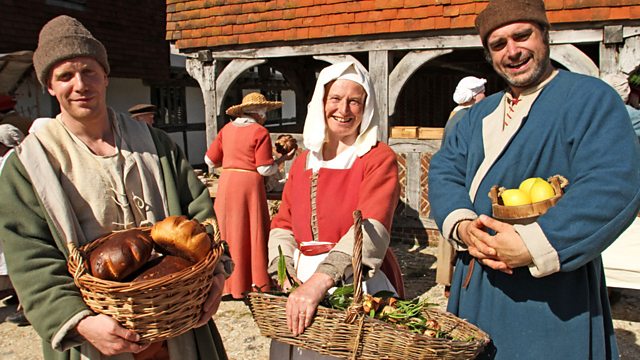 The monasteries in 1500 were the biggest landowners in England and Wales after the King, and this placed them at the forefront of early Tudor technology and farming. Wool production became known as 'the jewel in the realm' of the English economy in Tudor times and accounted for around half the country's wealth.
Monasteries capitalised on this massively, owning flocks that numbered thousands of sheep and keeping a virtual monopoly on the export of wool to foreign countries. Monastic tenant farmers were second to none when it came to exploiting the huge commercial potential of sheep farming.
Ruth gets to grips with the farm accounts, an essential task for any farmer in the period as they became increasingly aware of maximizing their ability to profit from the land efficiently.
Peter makes a shearing bench - a medieval labour-saving device - which involves bending wood by steam. To seal any wounds that might occur while shearing, Tom makes an economy salve out or broom, suet, brine and urine. Peter and Tom then herd the sheep to a pond where they are thoroughly washed. And Tom gets his first taste of shearing sheep.
With sheep so abundant on Tudor farms, they were regularly milked as dairy herds (much as cows are today). Ruth uses the sheep's milk to make cheese that she can sell at the market.
The wool fleeces are sorted. The monasteries maintained a reputation for trading the best quality fleeces by only accepting the very best from their tenants to sell onto the wool merchants. Peter takes the best of the fleeces to be graded by experts. The acceptable fleeces would be weighed and taken away for sale - the farmer only got paid their share after the monastery had sold the wool, and the monks set the rate.
Last on
Credits
| Role | Contributor |
| --- | --- |
| Presenter | Ruth Goodman |
| Presenter | Peter Ginn |
| Presenter | Tom Pinfold |
| Director | Giulia Clark |
| Producer | Giulia Clark |
| Executive Producer | David Upshal |