Asking for a pay rise; WW2 evacuees; Self-Harm treatment; Closet dramas
In a recent YouGov survey, it was found that 76% of women had never asked for a pay rise. As Christmas approaches, we discuss how best to negotiate for more money. Friendships don't always last but there is one that proved the test of time. Margaret and Kathleen Wright were just seven when they had to leave their parents in Southend to travel to Derbyshire as evacuees in the Second World War. We join them at a reunion. Why is the treatment of self harm patients so variable in hospitals? The very first play written by a woman in English was a translation of Euripides' Iphigenia, by Lady Jane Lumley in 1557. Why was it deemed unperformable?
Last on
Negotiating a pay rise
Women, on average earn 9% less than men – and they're more reluctant to ask for a salary increase.  According to a recent poll by YouGov 76% of women had never raised the subject of more money with their employer. So what's holding women back?  Carole Fossey, Non-executive Director at Greater Manchester Chamber of Commerce and a member of the Women in Business group and Heather Jackson, founder of The Women's Business Forum join Jenni to discuss the best way to approach the boss, and what you should do if you get turned down.
Evacuees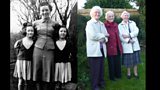 Friendships don't always last but one there is one that proved the test of time. Margaret and Kathleen Wright were just seven when they had to leave their parents in Southend to travel to Derbyshire as evacuees in the second world war. The twins went to stay with Joyce Johnson and her father, Joyce's mother had died and they decided it would be a good idea to take in an evacuee- they ended up with two! Margaret and Kathleen are now 80 and Joyce is 94 but they are still in touch after all these years. Bob Walker went to one of their reunions in Smalley in Derbyshire at Joyce's house.
Closet Drama
It might be a surprise to discover that the very first dramatic work written by a woman in English, was originally written by Euripides.  However in 1557 a Lady Jane Lumley made history by translating the play Iphigenia from Greek into English, becoming the first English woman to commit a name to a playtext. The play was written at a time when women weren't encouraged to act professionally so wrote and performed their own plays in secret, in each other's houses, using their own props and costumes.  These texts were so-called 'closet dramas'. The Rose Company is a new all-female classical theatre company based in Lancaster, and are touring the production.  Alison Findlay is Professor of Renaissance Drama and Director of the Shakespeare Programme at the University of Lancaster and performs in the play, and Emma Rucastle, Artistic Director of The Rose Company, is directing the production.  They join Jenni to discuss why they took Iphigenia out of the closet and onto the stage.
Hospital treatment for patients who self-harm
Over 200,000 people arrive at hospitals per year having harmed themselves, and well over a half of them are women.  The arrival at Accident and Emergency is often the final resort at the peak of a crisis.  However, a recent study has shown that the treatment of those patients in hospital varies wildly.  National guidance from NICE has been outlined as to how to treat patients presenting with self-harm injuries, recommending in particular the use of a specialist psychosocial assessment which is proven to help reduce further risk of injury.  Despite this, however, there has been no rise in the times the assessment has been applied over the last ten years.  And how best can staff under pressure to treat and treat quickly, cope with often distressed patients?  Dr Jayne Cooper, Head of Research at the Self-Harm Project at the University of Manchester, led the study, and Salena Williams is Senior Nurse at Liaison Psychiatry at Bristol Royal Infirmary where they are trying out innovative solutions. They both join Jenni to discuss.
Share (Self Harm Awareness & Recovery for Everyone)
Credits
| Role | Contributor |
| --- | --- |
| Presenter | Jenni Murray |