Gambling adverts on television
Why are there so many adverts on television for gambiling and do they cause harm? How do you know if the eggs you buy are really British? We'll be hearing how banks are monitoring fraudelent activity on our accounts. And are cheap perfumes just as good as expensive. We'll be comparing high street and supermarket bargains with their more costly counterparts.
Last on
Egg Fraud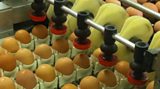 The British egg industry is looking to use technology to check the authenticity of its produce. It's thought some foreign eggs might be being passed off as British.