Power Lister Baroness Brenda Hale

Lady Hale is Deputy President of the Supreme Court. Her role makes her the most senior female judge in British legal history and she remains the first and only woman to sit on the UK's highest court. Educated in the state school system, she won a state scholarship to Cambridge. The first woman to be appointed to the Law Commission, she spent ten years re-defining the face of family law – an area she specialised in. She has been an outspoken critic of the lack of women and diversity in the judiciary, particularly at the highest levels.

The Female Face of Democracy

This week two Labour MPs received awards from the Political Studies Association. Stella Creasy, MP for Walthamstow was named Campaigner of the Year for highlighting the devastating impact of payday loans companies and Natascha Engel, Chair of the Backbench Select Committee was given the title of Parliamentarian of the Year for her work championing the rights of backbenchers. Both are here to discuss their roles and why several of their female contemporaries are leaving politics.

Women and their Changing Sexual Behaviour

According to the latest National Survey of Sexual Attitudes and Lifestyles the changes in sexual behaviour  that have taken place over the last ten years have mostly taken place within the lives of women. We are continuing to have sex in later life but less than half of women aged 65 to 74 have a sexual partner. Women have almost as many partners as men now but overall we are having less sex, and a significant rise in women having same-sex partners. To discuss why, Jenni is joined by Professor Dame Anne Johnson of University College London who was a lead on this survey, psychotherapist and writer Susie Orbach and Guardian columnist Ellie Mae O'Hagan.

Amy Tan

Amy Tan, bestselling writer of The Joy Luck Club, the Kitchen God's Wife and three other novels, has a new book out after nearly eight years.  The Valley of Amazement is an ambitious historical novel spanning nearly fifty years from the end of the nineteenth century through to the start of the Second World War.  It moves between America and China but the main story is set in Shanghai in the early twentieth century, told through the voice of Violet Minturn, daughter of the American mistress of Shanghai's most exclusive courtesan house. Amy Tan joins Jenni in the studio.
Credits
Presenter

Jenni Murray
Interviewed Guest

Amy Tan
Interviewed Guest

Brenda Hale
Interviewed Guest

Anne Johnson
Interviewed Guest

Susie Orbach
Interviewed Guest

Natascha Engel
Interviewed Guest

Stella Creasy
Producer

Beverley Purcell
Editor

Eleanor Garland
Woman's Hour Power List 2014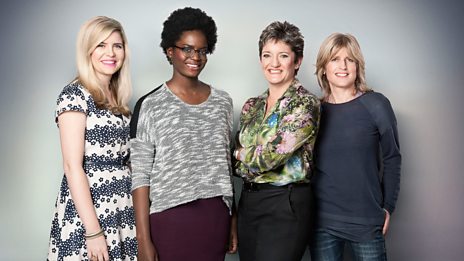 Identifying the top ten game changers operating in the UK today.
Free downloads
Discover cooking techniques and tips to help you perfect your cooking know-how. Jenni Murray and…

Which ten women in the UK have done most to game-change the way power operates in the UK, whether in…

Woman's Hour brings you the big celebrity names and leading women in the news, with subjects ranging…