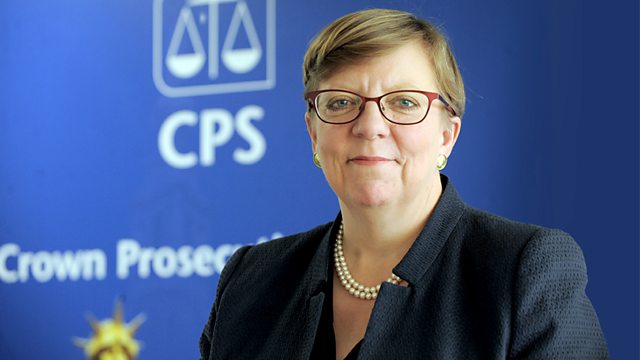 Women and the Law
Listen in pop-out player
Alison Saunders in her first interview for Woman's Hour since becoming Director of Public Prosecutions. Labour MP Bridget Phillipson on why the criminal justice system is being scrutinised by an all-party group of parliamentarians on how well it deals with women who have been subjected to domestic or sexual violence. One woman describes her struggle to get legal aid to protect herself and her children following government changes to cut £350 million from the £2.2 billion cost of funding civil actions in England and Wales. Family lawyer Christina Blacklaws and Women's Aid chief executive Polly Neate on the impact of those changes to civil legal aid since April. Justice Minister Lord McNally on the safeguards intended to protect funding for cases such as domestic violence.
Presenter: Jane Garvey.
Producer: Anne Peacock.
Last on
Alison Saunders - Director of Public Prosecutions
Alison Saunders has been Director of Public Prosecutions since the beginning of November. She took over the high profile role leading the Crown Prosecution Service from outgoing DPP, Keir Starmer. With a fall in recorded crimes committed against women in England and Wales and an increase in convictions for rape prosecutions and domestic violence, how will she build on her predecessor's success? And how close is she to announcing Britain's first prosecution for FGM?
Justice for Women Inquiry
How well does the criminal justice system deal with women who have been subjected to domestic or sexual violence? This week an all-party group of MPs has begun taking evidence. Among the issues the Justice for Women inquiry will be hearing about are barriers to disclosing abuse, the role of the police, and guidelines on sentencing in cases where there is a conviction. Jane is joined by Labour MP Bridget Phillipson, secretary of the All-Party Parliamentary Group on Domestic and Sexual Violence.
Domestic Violence and Accessing Legal Aid
Changes to the civil legal aid system were introduced in April this year which means that there are now fewer cases for which people can get funding.  These include private family law such as divorce and custody battles and personal injury cases. People who experience domestic violence can still apply for legal aid to help with the cost of legal advice and court proceedings, but must provide evidence to prove it. Tamsin Smith speaks to one woman who suffered years of domestic abuse and after one particularly violent incident was advised to leave the family home with her children to seek safety in a refuge. She describes her experience of trying to provide evidence in order to access legal aid.
Impact of Changes to Civil Legal Aid
Family lawyers' representative on the Law Society council Christina Blacklaws, who's also Head of Policy at the Co-operative Legal Services, is joined by Polly Neate, chief executive of Women's Aid, to assess the impact of the changes on women's access to justice. What evidence needs to be provided in order to qualify for legal aid, and what's been the wider experience of women so far?
Lord McNally - Minister for Justice
While cutting the legal aid bill for England and Wales, the government said it was targeting resources at those most in need. Since April some family law cases, including those involving domestic violence, have continued to qualify for funding providing certain criteria are met. Is Lord McNally satisfied that the safeguards built into new law are working?
Sources of Information and Support
Credits
| Role | Contributor |
| --- | --- |
| Presenter | Jane Garvey |
| Interviewed Guest | Alison Saunders |
| Interviewed Guest | Bridget Phillipson |
| Interviewed Guest | Christina Blacklaws |
| Interviewed Guest | Polly Neate |
| Interviewed Guest | Tom McNally |
| Producer | Anne Peacock |