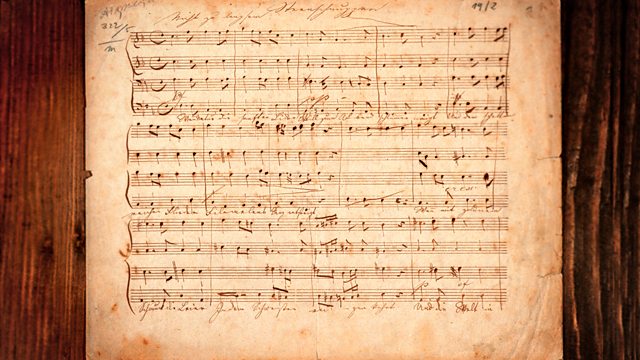 Words and Music: Britten's Poets
Benjamin Britten's settings of poetry have earned him comparisons with Schubert. He spoke of his desire to 'restore to the musical setting of the English language a brilliance, freedom and vitality' and this he did through the poets he loved, from John Donne and Henry Vaughan to Rimbaud and W.H Auden. In this special edition of Words and Music Alex Jennings and Diana Quick read a selection of verse by the poets who captivated Britten, alongside recordings of some of his best-loved settings, including the Canticles, Les Illuminations and the War Requiem.
Both readers have an association with Britten: Alex Jennings played the composer in Alan Bennett's play The Habit of Art about a fictional meeting between Auden and Britten.
Diana Quick has a home on the Suffolk Coast and has been involved in Britten centenary celebrations.
Last on
Producers' Note
Benjamin Britten stated his desire to place the setting of great poetry at the very centre of his compositional life:<?xml:namespace prefix = o ns = "urn:schemas-microsoft-com:office:office" />
'One of my chief aims is to try and restore to the musical setting of the English language a brilliance, freedom and vitality that have been curiously rare since the days of Purcell.'
In this special edition of Words and Music you will hear a short selection from the host of work which he set, alongside Britten's own music as well as music which he loved – and in some cases music which he is playing. Our readers both have connections to Brittten and to his beloved  Aldeburgh; Alex Jennings played Britten in Alan Bennett's acclaimed play The Habit of Art at The National Theatre. Diana Quick is a long-time Aldeburgh resident and has curated the Aldeburgh Documentary Festival.
We start with an excerpt from the Hymn to St Cecilia, which seems appropriate as Britten was born on St Cecilia's day and always wanted to emulate his hero Henry Purcell in writing a piece dedicated to the Patron Saint of Music. This piece sees Britten setting the words of his long-time friend and collaborator W. H. Auden – who was responsible for suggesting much of the poetry Britten would set. The ethereal beauty of the hymn is followed by two great religious poems, one by the metaphysical poet John Donne and the other Gerard Manley Hopkins who, like Britten, took deep delight in the natural world and the vision of the almighty which he found within it. Manley Hopkins' ebullience is followed by Britten's 'For I will consider my Cat Jeoffry', where the simple wonder of God's feline creation finds musical expression in the purity of treble and organ.
The natural world which Britten so rejoiced in on his daily walks, and which informed so much of his music is represented here in a combination of texts and music which focus on the seasons: Milton's Song on May Morning follows music from Britten's Spring Symphony, which in his own words tells the story of 'the progress of Winter to Spring and the reawakening of the earth and life which that means'. Two Hardy poems take us through Autumn and into Christmas. His magical rural evocation of nativity in The Oxen is followed by Britten's glistening 'Wolcum Yole!' from his Ceremony of Carols.
Sleep and darkness were themes which fascinated Britten – he explored them in both his Nocturne and his Serenade for Tenor, Horn and Strings. We hear Louis MacNeice's weary Cradle Song over the lulling strains of Britten's Nocturnal After John Dowland, and Keats's luscious paean to the 'soft embalmer of the still midnight'. But Britten also tackled the dark themes of war and thwarted love, and in Wilfred Owen's Anthem for Doomed Youth we hear the same bleakness that resonates in Britten's Sinfonia da Requiem.
Tennyson's mighty Kraken is brought even more forcefully alive when underpinned by Britten's 'Sea Interlude' from Peter Grimes – reminding us of his fascination for the sea and its prominence in his life in Suffolk. Blake's Auguries of Innocence return us to the realm of spirituality, and the final section of the Hymn to St Cecilia brings to a fitting end our exploration of the words which so captivated this most poetic of composers.
Georgia Mann-Smith & Clara Nissen (producers)