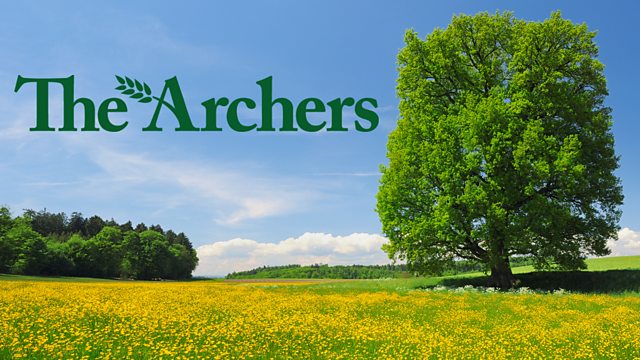 21/11/2013
Emma's finishing off her cookbook with Lynda. They finally agree on a title: Appetising Ambridge. They enjoy a brownie and Emma spots that Lynda has changed another recipe. They discuss Ed's problem with Neospora - people and their dogs on his land are driving Ed crazy
Lynda reservedly updates Emma on Robin Hood progress. There's a small issue with her Robin and Marian, which she'll address this evening.
Joe's not feeling up to collecting holly and mistletoe anymore. Clarrie thinks Eddie's mad for wanting to get it from Grange Farm - it doesn't feel right, as they'd be beholden to Oliver and Caroline.
Emma has a card for Eddie and Clarrie, for their 32nd wedding anniversary. As a thank you for looking after him, Joe treats Eddie and Clarrie to £50 from his compensation to go somewhere fancy.
Eddie shares that he might have some good news for Darrell, before proposing a toast to Clarrie - the best wife in the world. Clarrie's touched.
Lynda surprises Rob and Kirsty with a private rehearsal, focusing on intimacy.
But Lynda's improvisational ideas backfire as Kirsty uses the scenario to dig at Rob, barely staying in character. Lynda vainly hopes the exercise has been useful. Kirsty admits they've been given lots to think about.
Last on