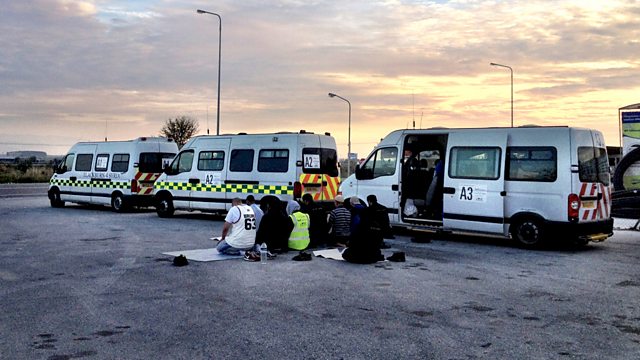 A Road Trip to War
Catrin Nye follows the British Muslims risking their lives to deliver aid to Syria by hand. Delivering medical supplies, blankets and dried food to the thousands of people affected by the on-going civil war the group travel overland through France, Belgium, Germany, Switzerland, Italy, Greece and finally to the Turkey Syria border where they cross into Syria, deliver aid and dodge snipers to administer medical treatment in hospitals.
Because the men fit the profile of those known to be going to fight in Syria and British counter terror police are tracking the group - resulting in delays, questioning and some not making it to Syria. There is a distinct lack of fear from everyone involved in the trip - a fearlessness that they put down to their religion and a belief that if they were to die that would be destiny. This is particularly evident inside Syria where the group take huge risks travelling deep into Aleppo.
In this film we follow the journey from tears in Manchester as family wave goodbye to relatives they know are risking their lives, all the way into Syria. We share the life changing journey to the front line of the war that the world is debating. What drives someone to take aid into their own hands and how responsible is it to do so?
Last on
Catrin Nye goes overland to Syria with the British Muslims delivering aid
Credits
| Role | Contributor |
| --- | --- |
| Presenter | Catrin Nye |
| Producer | Richard Kenny |
| Editor | Kevin Silverton |
The challenges facing Muslim soldiers