Andy McNab; Cheryl Knight; Joseph Boyden; John Lloyd
Libby Purves meets former soldier-turned-writer Andy McNab; Cheryl Knight, who is in charge of shoes at the Royal Opera House; author Joseph Boyden and producer John Lloyd.
Andy McNab is a former SAS soldier-turned-writer. He was a foundling who joined the infantry with the Royal Green Jackets, progressing to the SAS. In the Gulf War he commanded the Bravo Two Zero patrol and later wrote a book about his experiences. He has just spent the last year as the Reading Agency's literacy ambassador for the 6 Book Challenge visiting prisons and factories to encourage young people to read.
Cheryl Knight is opera footwear supervisor at the Royal Opera House and in her spare time performs as Joyce Grenfell in her one-woman show, Turn Back the Clock. The show is Cheryl's tribute to the writer and performer who died in 1979 and is remembered for her witty monologues - including her popular sketch as a harassed nursery school teacher. Cheryl is currently assembling the shoe collection for two Royal Opera House productions - Parsifal and Carmen. Turn Back the Clock is at Waterloo East Theatre.
Joseph Boyden is a prize-winning Canadian author whose new book, the Orenda, draws on his own background. He is a descendant of Canada's First Nations and was educated by Jesuits. The Orenda is set in the wilds of 17th century North America when Europeans were colonising the region and the First Nation tribes fought among themselves and suffered under the invaders. The Orenda is published by Oneworld.
Producer and writer John Lloyd is best known for his work on comedy programmes including Not the Nine O'Clock News, Spitting Image, the Hitchhiker's Guide to the Galaxy and QI. He is currently the Radio 4 presenter of the Museum of Curiosity, a spin-off from QI. His new book Afterliff - the New Dictionary of Things There Should Be Words For, written with Jon Canter, is published by Faber and Faber.
Producer: Paula McGinley.
Last on
In the studio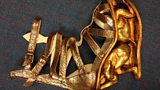 Shoes made for a production of Aida at the Royal Opera House.
Credits
| Role | Contributor |
| --- | --- |
| Presenter | Libby Purves |
| Interviewed Guest | Andy McNab |
| Interviewed Guest | Cheryl Knight |
| Interviewed Guest | Joseph Boyden |
| Interviewed Guest | John Lloyd |
| Producer | Paula McGinley |