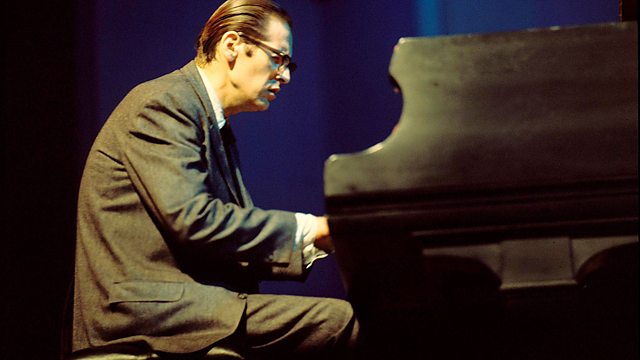 Bill Evans Leaves the Stage
Bill Evans plays his last gig.
He was called the Poet of the Piano, and the Chopin of Jazz, this week Donald Macleod delves into the life and music of Bill Evans. Although Evans started off in the world of classical music, it wasn't long before he got the Jazz bug. His classical training wasn't wasted though, for it went on to influence the way he performed for the rest of his life. His touch at the piano became legendary, and his preferred ensemble for performing his own compositions, and those by others, was the Jazz trio combining piano, bass and drums. Evans came to prominence when invited to work alongside Miles Davis and, in time, Evans would go on to perform with the likes of Tony Bennett, Julian "Cannonball" Adderley, Stan Getz and Monica Zetterlund.
Evans was starting to look quite ill. He needed to have all his teeth removed, which was done in the UK, between appearances at Ronnie Scotts, as it was cheaper. Another tour took Evans to Japan where he was given a film-star welcome. For that tour he had brought with him new repertoire, including the virtuosic Twelve Tone Tune Two. By the mid seventies, Evans had a son called Evan, later dedicating a work to him called Letter to Evan. Another huge event in his his family circumstances was the news that his brother Harry had committed suicide. Harry never knew that Evans had written a work for him called We Will Meet Again. By the late seventies Evans's health was in decline; he was suffering from hepatitis. Touring was making increasing demands upon Evans, including twenty-one European cities in twenty-four days. By nineteen-eighty, with his face gaunt, and his wrists and fingers bloated, Evans was too exhausted to perform, and a few days later he died.
Last on
More episodes
Next
You are at the last episode