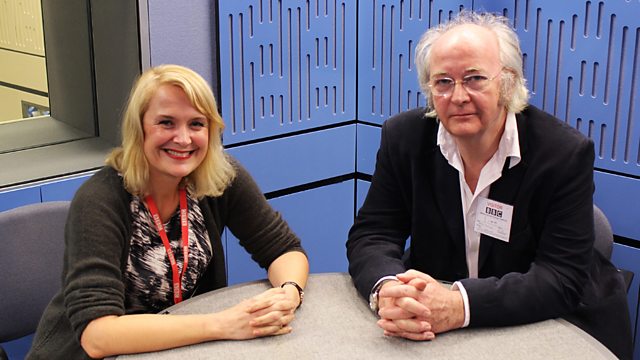 Friday - Sarah Walker
With Sarah Walker and her guest the author, Philip Pullman. Also, at 9:30am, our brainteaser: Songs Without Words
9am
A selection of music, including the Essential CD of the Week: Murray Perahia: Songs Without Words
10am
Artist of the Week: Hungarian pianist, conductor and composer, Zoltan Kocsis.
10.30am
In the week of BBC Children in Need, Sarah's guest is the multi-award winning author Philip Pullman, best known for the fantasy trilogy, His Dark Materials. The final instalment, The Amber Spyglass, won the 2001 Whitbread Prize for best children's book and the Whitbread Book of the Year prize in January 2002, the first children's book to receive that award. In 2005 Pullman won the biggest prize in children's literature, the annual Astrid Lindgren Memorial Award from the Swedish Arts Council. Many of his works have been adapted for screen including I Was a Rat!, The Butterfly Tattoo, The Ruby in the Smoke and a film adaptation of Northern Lights, titled The Golden Compass, was released in December 2007. In 2012, Pullman was asked by Penguin Classics to curate 50 of Grimms' classic fairytales, from their collection of over 200 tales.
11am
Sarah's Essential Choice
Borodin
Symphony No.1 in E flat
Rotterdam Philharmonic Orchestra
Valery Gergiev (conductor)
PHILIPS.
Last on
Today's Brainteaser Answer
Only Connect
How are the people in these three pieces linked? They appear in the phrase:
"not just any old Tom, Dick and Harry".<?xml:namespace prefix = o ns = "urn:schemas-microsoft-com:office:office" />
The music played:
Wood
Tom Bowling (Fantasia on British Sea Songs)
BBC Symphony Orchestra
Andrew Davis (conductor)
TELDEC 4509 97582  
Trad arr Tomlinson
Dick's Maggot (from First Suite of English Folk-Dances)
Slovak Radio Symphony Orchestra
Ernest Tomlinson (conductor)
MARCO POLO 8223513  
John Williams
Hedwig's Theme from Harry Potter and the Philosopher's Stone
Film Sountrack
John Williams (conductor)
ATLANTIC 7567930865   
The BBC Classical Playlist