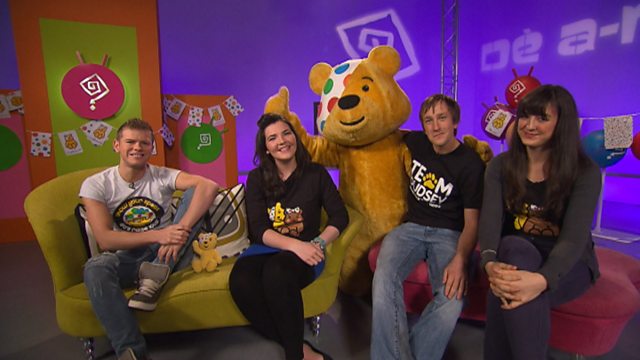 Bidh Pudsey a' tadhal air an stiùideo airson Clann ann an Èis, le tòrr spòrs is ploidh. Cuideachd chi thu ciamar a chaidh dhan na
preseantairean aig Dè a-nis? nuair a chuir iad air doigh dùbhlan mòr airson Clann ann an Èis: Ball-Coise Nam Buingean! Seadh
ball-coise nam buingean aig am Bun Sgoil Ghàidhlig Ghlaschu. Dean cinnteach gum bi thu ga choimhead!
Pudsey visits the studio. Plus how did the Dè a-nis? presenters get on when they organised a Children in Need Challenge - hopper football at the Glasgow Gaelic School?
Last on
Cleas draoidheachd
Trì bogsaichean beaga falamh
Bòrd
Aon bhogsa làn spaghetti
Bann rubair
Geansaidh le muilicheann fada