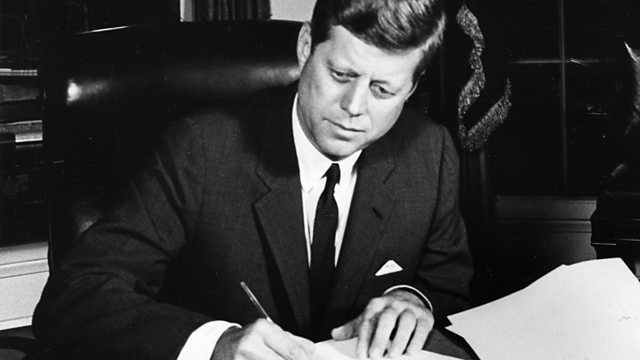 Letters to and from President Kennedy are published in book form and edited by Martin W Sandler to mark fifty years since the assassination of 1963. And a selection, abridged in five episodes by Penny Leicester, reveal the drama and tensions to do with American foreign policy. Other letters reveal Kennedy's wit and warmth when contacting friends and members of the public:
2. At the time of his inauguration Kennedy was lauded by a famous poet. Afterwards he wrote about the threat of communism and America's youth abroad. He also wished somebody a very happy birthday.
Readers Colin Stinton, Richard Laing, Peter Marinker, Trevor White and Stephen Greif.
Producer Duncan Minshull.
Last on
Three writers give their own spin on the day that President John F Kennedy was killed.
Music
The music used in this Book of the Week includes:
Episode 1:
Glenn Miller
- 'Rainbow Rhapsody'
Episode 5:
Boards of Canada
- 'Ataronchronon' and 'Constants are Changing'
The series also features non-commercial production music.
Credits
| Role | Contributor |
| --- | --- |
| Reader | Colin Stinton |
| Reader | Richard Laing |
| Reader | Peter Marinker |
| Reader | Trevor White |
| Reader | Stephen Greif |
| Producer | Duncan Minshull |
| Abridger | Penny Leicester |
| Author | Martin W Sandler |
More from Books at the BBC