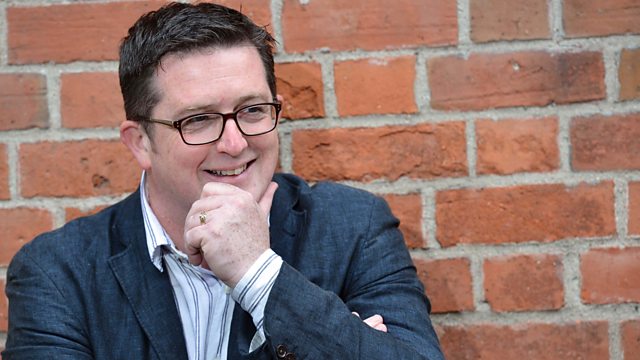 02/11/2013
John Toal talks to American songwriter Jimmy Webb, listens to a wartime tale starring Belfast's own version of the Andrews Sisters, and hears live cabaret about Julie Andrews.
Last on
Daube of Beef with Beetroot; Celeriac and Potato Mash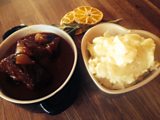 Marinade for Beef
1.5 kg braising beef cut into chunks about 4 cm
1 bottle red wine
Few sprigs fresh thyme
2 smashed cloves garlic
Immerse the beef in the wine and mix in the thyme and garlic.
Cover and leave to marinate in the fridge for a few hours and up to a day. 
2 tablespoons cooking oil
4 rashers streaky bacon
4 small white onions, peeled and quartered
1 tablespoon flour
1 tablespoon tomato puree
500ml beef stock, made with 2 cubes
Peeled zest ½ orange
2 medium beetroot, peeled and cut into 3cm dice
1 teaspoon ground coriander
Drain the beef through a colander and retain the liquid.
Pat the beef dry.
Heat 1 tablespoon of the oil in a frying pan and fry the bacon until crisp. Remove from the pan and reserve.
Add the beef to the pan, in batches and cook until well-sealed.
Transfer to a casserole.
Add the onions and cook until golden. Add the flour and tomato puree and cook out for 1 minute. Add the retained wine from marinade and the stock and bring to the boil.
Pour over the meat; add the beetroot and coriander and orange zest. Cover and place in a 160˚c oven for 2 hours or until fork tender.
Celeriac and Potato Mash
1 medium celeriac
1 small onion, peeled and chopped
25ml cooking oil
25g butter
250ml whole milk
4 medium potatoes
Few sprigs thyme
Salt and pepper to taste
Peel the celeriac and cut into 2cm chunks.
Heat the oil in a saucepan and add the celeriac. Seal off and dot the butter around the pan with thyme. Cook until golden. Add the milk and simmer until soft. Remove the thyme sprigs.
Blend the mixture.
Peel and boil the potatoes in a separate pan and when soft drain well. Mash and mix in the celeriac mixture. Check seasoning.
Serve with an extra knob of butter.