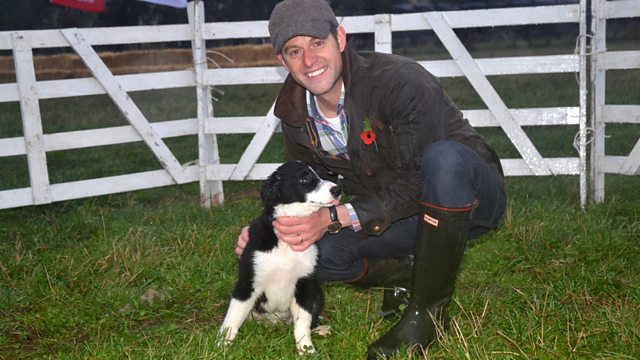 One Man and His Dog
For the first time, Countryfile is home to the BBC's One Man and His Dog competition, showcasing the time-honoured skills and traditions of sheep dog trialling. The very best sheep dogs and their handlers from England, Ireland, Scotland and Wales compete to become the 2013 champions.
Matt Baker takes to the commentary box to take us through all the trialling action. Julia Bradbury finds out if the collie really is the brains in the operation, or if the simple sheep has been pulling the wool over our eyes. And Adam is in Bala in North Wales - the birthplace of sheep dog trialling - helping farmers bring down more than 900 Welsh mountain sheep from the hills.
Last on
One Man and His Dog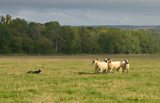 In a field in the Cotswolds four nations gather for the BBC's One Man and His Dog competition.  For the first time, Countryfile is welcoming the sheep dog trials to the programme as Scotland, England, Ireland and Wales battle it out to be named champions.  Eight competitors are hoping their collies will be able to lead a group of Welsh mule sheep across the course while dropping the minimum amount of points.  But the triallists probably aren't banking on the sheep being quite so stubborn!  You will also be able to watch full coverage of the event on the Red Button immediately after the programme and on the BBC iPlayer.
Watch full coverage of One Man and His Dog on the iPlayer from Monday 28 October
Team England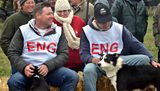 Ben Smith and Mark Hopper have the hopes of England resting on their shoulders.  Ben, 37, from Northumberland, says he likes to "wing it" in competitions but isn't aiming for second place. He's competing with six-year-old Meg, who's quick and very responsive to her owner.  Fourteen-year-old Mark has travelled from Cornwall with his dog Zac. He has been trialling since he was ten.  However, Mark is worried that Zac might get a bit too close to the sheep or that he'll give his dog the wrong command.  He also knows that the whole of his village will be watching.
Team Scotland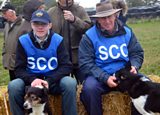 Fifteen-year-old Rory Marshall, from Argyll, is a newcomer to trialling but has plenty of experience working with sheep on his family's hill farm.  He's competing with Tess, who he trains with almost every evening and whose grandmother was a One Man and His Dog winner in 2004.  Rory's team-mate, Ian Brownlie, has a lot to live up to as he's the defending Singles Champion.  Ian, 45, from near Alloa, says he's here to win, not to make up the numbers.  He's competing with six-year-old Gus.
Team Ireland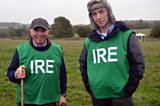 Michael Hastings, 53, and Jake Hamilton, 18, make up Team Ireland.  Michael, from County Mayo, is a part-time farmer and full-time telephone engineer who was inspired to take up trialling by watching One Man and His Dog.  Michael is competing with 10-year-old Ben.  County Antrim teenager Jake started competing after getting a sheep dog puppy for his birthday.  He believes his collie, Jim, is capable of winning if luck is with him on the day - and he manages to hold his nerve.
Team Wales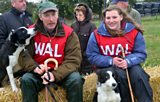 Team Wales have insider knowledge when it comes to One Man and His Dog – Arthur Roberts is a former judge and Gwenllian Pyrs' sister has competed on the show in the past.  Arthur, 58, from Conwy, is accompanied by five-year-old Chip who can be "rebellious" at times.  Arthur is a full-time farmer who gives the commands to his dogs in Welsh.  Gwenllian, 15, is also from Conwy and has been trialling for two years.  She admits she gets nervous when competing but believes her dog Meg is fast and powerful.
Gathering in the sheep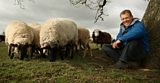 Adam Henson travels to Bala in Wales where sheep dog trialling began.  He meets the great grandson of Richard John Lloyd Price who founded the first trials back in 1873 and finds out whether the home nation triumphed.  He then heads into the Welsh hills to gather in the sheep for the winter with the help of his dog Millie.  Up on the slopes you can see how the skills demonstrated during One Man and His Dog are put to use in the working world.
Are sheep intelligent?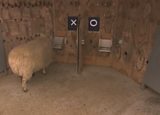 Julia Bradbury heads to Cambridge but not to find out how smart the students are. Instead she's testing the intelligence of sheep.  Scientists at the university have designed an experiment to see if the animals can recognise symbols which lead them to food.  Julia also meets a footballing sheep to discover if it can still kick a ball after years without practice.  However, there is a serious point to the research – it's being used to better understand neurological diseases in humans.
Credits
| Role | Contributor |
| --- | --- |
| Presenter | Matt Baker |
| Presenter | Julia Bradbury |
| Presenter | Adam Henson |
| Series Producer | Teresa Bogan |