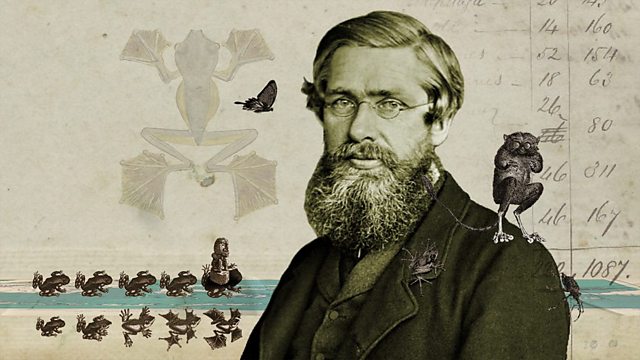 05/11/2013
Alfred Russel Wallace was a Welsh biologist who, along with Darwin, devised the theory of evolution through natural selection. Adam Walton commemorates the centenary of his death.
Last on
Alfred Russel Wallace
This week marks the centenary of the death of Welsh naturalist and explorer Alfred Russel Wallace. He was a hugely famous scientist in the Victorian and early Edwardian Era, and the co-discoverer of evolution by natural selection alongside Charles Darwin, but his name has been largely forgotten, and his work overlooked, and been overshadowed by that of Darwin. Adam Walton explores the life and work of Wallace, and meets staunch Wallace supporter George Beccaloni behind the scenes at the Natural History Museum in London, now home to the Wallace Family Archive. We also visit the National Museum Cardiff, where senior conservation officer Julian Carter takes Adam on a tour of their exhibiton, running 'til March 2014 called "Wallace: The Forgotten Evoluitionist?". Reporter Alan Daulby meets some students at the University of South Wales who have recently been following Wallace's footsteps on a field trip to Borneo. We also hear quotes from Aldred Russel Wallace read by Ioan Hefin of Theatr Na Nôg, who have produced two stage shows about the great Victorian.