Giselle Allen; Lisa Jardine; Children in parks; Lady Rhondda
Listen in pop-out player
Soprano Giselle Allen [currently singing the role of Ellen Orford] discusses the female characters in Peter Grimes with director Phyllida Lloyd. Biographical historian Professor Angela V John talks about her new biography of Welsh suffragette Lady Rhondda. Lisa Jardine - the retiring Chair of the HFEA - asks why we don't hear about all the people who fail with IVF. Reporter Geoff Bird takes a look at new research into how children behave in parks.
Presenter: Jenni Murray
Producer: Helen Lee.
Last on
Peter Grimes; the female roles
This year marks the centenary of the birth of composer Benjamin Britten and during 2013, his work is being heard in concert halls and opera houses throughout the UK. As part of the celebrations, Radio 3 is broadcasting many special programmes - including every opera he wrote- and it will mark Britten's centenary weekend, the 22nd- 24th November, with a residency in the composer's home town of Aldeburgh. This week, the highly acclaimed Opera North production of Peter Grimes is on stage at The Lowry in Salford. It is one of Britten's best loved works and tells the story of Peter Grimes, a fisherman outcast by 'The Borough' following the death of his apprentice. It is a role that any tenor relishes……a flawed man descending into madness….but Peter Grimes is also an opera in which the female characters have an important part to play. To discuss the female roles in Peter Grimes, Jenni is joined by the director of Opera North's Peter Grimes - Phyllida Lloyd – and by the soprano currently singing the main female role of Ellen Orford – Giselle Allen. 
'Peter Grimes' is at The Lowry in Salford tomorrow night [Saturday, 9th November] and will be on stage at the Royal Theatre in Newcastle next week and at the Theatre Royal in Nottingham the week after.
Photograph of Giselle Allen, singing the role of Ellen Orford in Opera North's current production of Peter Grimes. Copyright courtesy of Bill Cooper. 
Lady Rhondda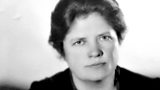 Lady Rhondda was a Welsh suffragette and a leading industrialist. In a colourful life that spanned seven decades she survived the sinking of the Lusitania, held important posts during the First World War and played an important part in securing a seat for women in the House of Lords. She also founded and edited the weekly paper Time and Tide in which she published the writing of many of her friends such as Winifred Holtby, Vera Brittain and George Bernard Shaw. It is doubtful that Time and Tide would have survived without Lady Rhondda's money and, as well as being an important space for new literary writing, it was also a respected political commentator on national and international affairs. Historian Angela V John has just published a biography of Lady Rhondda. She joins Jenni to talk about one of the 'movers and shakers' of British society in the first half of the 20th century.   
'Turning the Tide' by Angela V John is published by Parthian
Lisa Jardine: More public discussion is needed about when IVF doesn't work
Outgoing HFEA Chief Lisa Jardine has says the odds against IVF succeeding need to be made clearer to couples. In her last days in post, she has said she regrets not being able to reach out to the public more to explain the drawbacks of IVF as well as its wonderful hope. 'No one wants to run stories about the two thirds of women and men who go through considerable health trauma and anxiety and yet in the end they don't get a baby. Standard IVF, even with all the bells and whistles, is still not delivering a 50:50 chance of having a baby… IVF is a wonderful story but we still have to deal with the fact there in an increasingly large pool of people who are grieving as a  result of this process'. Jenni talks to Lisa Jardine and to Caroline Gallup, author of 'Making Babies The Hard Way' who underwent four unsuccessful IVF cycles before giving up.  
British Infertility Counselling Association
Parks
In Victorian times Britain children were supposed to be well behaved and "seen and not heard". But new research by the University of Manchester suggests Victorian children were every bit as unruly as today's. They looked at children's behaviour at parks in Manchester, London and West Yorkshire. They were built during the 1800s to give people in towns and cities access to clean air but there was a rowdy and unpredictable side too. Geoff Bird met up with Ken Shone, chair of the friends of Whitworth Park in Manchester and project leader Professor Sian Jones from University of Manchester.
Credits
| Role | Contributor |
| --- | --- |
| Presenter | Jenni Murray |
| Interviewed Guest | Giselle Allen |
| Interviewed Guest | Phyllida Lloyd |
| Interviewed Guest | Angela V John |
| Interviewed Guest | Lisa Jardine |
| Interviewed Guest | Geoff Bird |
| Producer | Helen Lee |