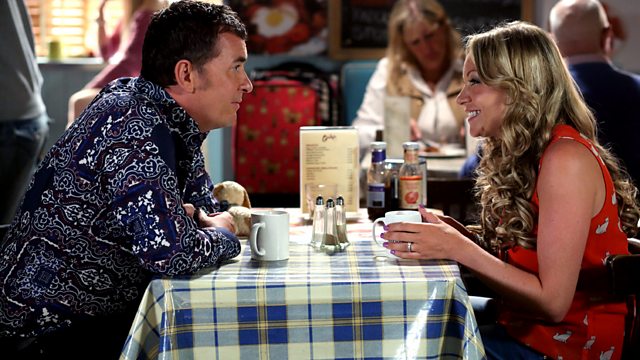 28/10/2013
Michael is on edge when he can't get hold of Alice. When Kat and Joey ask Michael about Alice's whereabouts he makes up an excuse but when she still hasn't returned by the evening, Joey demands answers presuming her disappearance has something to do with him. Knowing Michael isn't telling the truth, Joey squares up to Michael and Kat intervenes. Michael assures them Alice will be back tomorrow but Joey and Kat don't buy his story and threaten Michael. Later in The Vic, Michael overhears its Janine's birthday and comes up with a plan… Back at the house, he writes out a birthday card to Janine, glancing over at the bottle of pills on the table.
Janine spends her morning inviting family and friends to her birthday party. But feels lonely when she realises no one is coming to her birthday party. Her mood soon changes when the doorbell goes but she is surprised to see Michael. Touched that he is the only person to remember her big day Janine invites him over for dinner tomorrow. Michael is delighted knowing that he now has the opportunity to implement his plan...
Alfie and Roxy return loved up after their holiday and have agreed to stay away from Ronnie and Kat for the sake of their relationship. After breakfast in the café they head to The Vic and are stunned to see Kat behind the bar. Roxy reminds Alfie about their deal and Alfie feels terrible as he asks Kat to leave.
Later, Roxy tells Ronnie she can't see her anymore which leaves Ronnie broken. Meanwhile, Alfie tells Kat he will be keeping his distance from her but Kat points out that not seeing her and Ronnie won't solve his and Roxy's problems.
Meanwhile, Kat is feeling aggrieved about Alfie telling her to keep away from him and Roxy and convinces an equally unhappy Ronnie to go for a drink in The Vic. Roxy isn't happy when she sees Ronnie in the pub but Kat informs her that Jack has left and Roxy feels terrible. Roxy joins Ronnie and apologises but Roxy is worried when Alfie arrives and sees them together. As Alfie calls for everyone's attention, Roxy panics but she is overjoyed when he announces he is moving the wedding forward to November and invites Ronnie.
Whitney fears she has blown her chances of getting her job back when she tells the police exactly what she thinks of Dennis and Sharon. So she is pleased when the head teacher calls to inform her she can return to work.
Billy is pleased that his injury has healed as it means he can play in the football match, so he is gutted when Danny puts him on the bench.
Last on
Credits
| Role | Contributor |
| --- | --- |
| Michael Moon | Steve John Shepherd |
| Janine Butcher | Charlie Brooks |
| Alfie Moon | Shane Richie |
| Roxy Mitchell | Rita Simons |
| Ronnie Mitchell | Samantha Womack |
| Kat Moon | Jessie Wallace |
| Joey Branning | David Witts |
| Whitney Dean | Shona McGarty |
| Sharon Rickman | Letitia Dean |
| Carol Jackson | Lindsey Coulson |
| David Wicks | Michael French |
| Sadie Young | Kate Magowan |
| Denise Fox | Diane Parish |
| Billy Mitchell | Perry Fenwick |
| Danny Pennant | Gary Lucy |
| AJ Ahmed | Phaldut Sharma |
| Peter Beale | Ben Hardy |
| Arthur 'Fatboy' Chubb | Ricky Norwood |
| Jay Brown | Jamie Borthwick |
| Dot Branning | June Brown |
| Poppy Meadow | Rachel Bright |
| Tamwar Masood | Himesh Patel |
| Bella Young | Isobelle Molloy |
| Tiffany Butcher | Maisie Smith |
| Morgan Butcher | Devon Higgs |
| DC Rawlins | Nicola Goodchild |
| Executive Producer | Lorraine Newman |
| Director | Piotr Szkopiak |
| Writer | Katie Douglas |