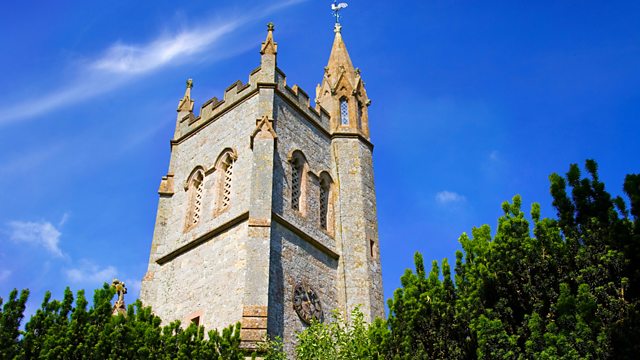 03/11/2013
A celebration of All Saints from Bethany Baptist Church, Rhiwbina, Cardiff led by the Rev'd Phil Dunning. Preacher: the Rev'd Roy Jenkins. The Cardiff Ardwyn Singers are conducted by David Leggett. Organist: Janice Ball.
Producer: Karen Walker.
Last on
Bethany Baptist Church, Rhiwbina, Cardiff
PLEASE NOTE: This script cannot exactly reflect the transmission, as it was prepared before the service was broadcast. It may include editorial notes prepared by the producer, and minor spelling and other errors that were corrected before the radio broadcast
It may contain gaps to be filled in at the time so that prayers may reflect the needs of the world, and changes may also be made at the last minute for timing reasons, or to reflect current events
R4 Opening anno:
And now it's time for Sunday Worship, which today comes live from Bethany Baptist Church, Rhiwbina in Cardiff and is led by the Minister, the Rev'd Phil Dunning.  The preacher is the Rev'd Roy Jenkins, who introduces the service.
ITEM 1  INTRODUCTION                                ROY JENKINS
Good morning, and welcome to this celebration of the season of All Saints.
We're in Cardiff's first English-speaking Baptist church, established originally in the city centre more than two centuries ago.
Baptists tend not to 'do' saints, not at least the stained glass variety. We might be inspired by many of those who've been formally recognised by other parts of the Christian church, and delight in them as models of faithfulness.   But they rarely figure either in our services or in personal devotion.
Yet this season can still be a valuable one for us, too, since it's about so much more than the celebrated ones.   The New Testament sees all Christian believers as saints - literally, God's holy people.  Which means that all who have gone before us in the way of Christ, are part of this number, those whose names are on a thousand churches, and those who are remembered by just one or two: those from ancient times, and those who've been precious to us because they've touched our lives for good.     We honour them all, since whenever we worship we do so along with them - with angels and archangels and the whole company of heaven.
Our opening hymn calls on that great company to assist us in our praise: Ye holy angels bright. 
ITEM 2  HYMN 1                CONG/CHOIR/ORGAN                   Dur:
Ye holy angels bright,
ITEM 3  PRAYERS                              REV PHIL DUNNING
Almighty God, you knit together all your people into one family in the body of Christ.
We bless you for all who have gone before us in your way.
May our lives, and the worship we offer today, be worthy of them, and honouring to our Lord Jesus Christ.
And in the words he taught, we say together:
PHIL + CONG/CHOIR       Lord's Prayer
Our Father who art in heaven, hallowed be thy name.
Thy kingdom come.  Thy will be done on earth as it is in heaven.
Give us this day our daily bread. 
And forgive us our trespasses as we forgive those who trespass against us.   And lead us not into temptation, but deliver us from evil.
For thine is the kingdom, the power and the glory. For ever and ever. Amen.
ITEM 4  LINK                       PHIL
This festival underlines the fact that Christian faith is essentially a corporate enterprise.  We make a personal response to God's love in Christ, for sure, but that binds us into a community which is always bigger than we might imagine - or even wish to.
The first national poet of Wales, Gwyneth Lewis, writes about a hermit who's irritated by others seeking the solitary life.  
ITEM 5  READER                           PETER
Poem: Hermits 
ITEM 6  LINK                                  PHIL
For any number of reasons, we might yearn to get away from it all, remove ourselves from the pressures of work, and family, from mobile phones, emails, television, the constant ache of bad news we can do nothing about, and a million other distractions.   And time apart to focus on what's important can be an invaluable discipline;  men and women who choose to live as hermits can provide the rest of us with the great gift of perspective.
But we can never be completely 'holy' all on our own.  To be holy is to be one with the God who is holy.  It's therefore to be one with all the people of God, even those who annoy us, and especially those whose groans we would prefer not to hear.  And it's also to be bound to that great company of followers of Jesus who share now in the worship of heaven.
ITEM 7  ANTHEM                              CHOIR/ORGAN                                 DUR:
Holy, holy, holy (Hoddinott)
ITEM 8  LINK                                       PHIL
Holy, holy, holy by Alun Hoddinott, sung by the Cardiff Ardwyn Singers, who've joined the congregation here for this service.
The New Testament Letter to the Hebrews contains a powerful plea for Christians under pressure to draw strength from the example of heroes of former days who have lived by faith.  There's a roll call of familiar names: Noah, Abraham, Isaac, David, Moses….and a graphic description of the unknown ones who refused to accept freedom, and died under torture in order, as the writer puts it, to be raised to a better life. 
'Some were mocked and whipped,' he says, 'and others were put in chains and taken off to prison.  They were stoned, they were sawn in two, they were killed by the sword.  They went round clothed in skins of sheep or goats - poor persecuted and ill-treated…'    It's a grim story - and yet he insists:  
ITEM 9  READING                             LINDA
 'What a record all of these have won by their faith!  Yet they did not receive what God had promised, because God had decided on an even better plan for us.  His purpose was that only in company with us would they be made perfect.
'As for us, we have this large crowd of witnesses round us.  So then, let us rid ourselves of everything that gets in the way, and of the sin which holds on to us so tightly, and let us run with determination the race that lies before us.
'Let us keep our eyes fixed on Jesus, on whom our faith depends from beginning to end.  He did not give up because of the cross.  On the contrary, because of the joy that was waiting for him, he thought nothing of the disgrace of dying on the cross, and he is now seated at the right-hand side of God's throne.
'Think of what he went through; how he put up with so much hatred from sinners.   So do not let yourselves become discouraged and give up.'  
[ Heb 11.39 - 12.3  GNB ]
ITEM 10                HYMN 2                CONG/CHOIR                    Dur:
For all the saints who from their labours rest,
ITEM 11                ADDRESS PART 1                              ROY JENKINS                     
But what does it mean to be a saint?  I've never forgotten leading a Bible study in a small chapel many years ago, and explaining that the New Testament word meant set apart, dedicated to God, and that it was used to describe all the people of God.  Which makes us all saints, I said - or words to that effect.   It was too much for one member of the group, a caring woman, normally quiet, calm, measured.  With an indignation which glowed like one of the blast furnaces in the steelworks just up the road, she protested:  'I won't have it, Mr Jenkins, 'I will not have it.  I am not a saint.'
I reckon she was in all sorts of ways, but my attempted explanations didn't seem to help.  She remained convinced that saints were without exception paragons of virtue, the marathon athletes of the spiritual life, moral superstars to be admired from afar, and she couldn't imagine herself among them.
But it's being unduly satisfied with ourselves which is perilous, not awareness of failure.  Perfection has never been a requirement of sanctity; which is just as well, since some of the most revered of canonised saints appear to have been pretty difficult to live with, grumpy like the hermit who just wants to be holy all on his own, opinionated, like the dedicated individual who has difficulty being patient with others who don't share his passion and commitment.  In their better moments, they realise it, and recognise their need of forgiveness and grace.
At its most basic, a saint is a person whose life is a window on God, one who enables us to glimpse something of the God revealed in Jesus Christ…and therefore what we're intended to be, what it means to be fully human.   The child's definition will serve nicely: 'A saint is someone the light shines through'.  It's someone who makes goodness attractive, makes it easier to believe.
I've been privileged to know any number of people who've done just that: families pouring out love for children with multiple disabilities, men and women spending decades caring for partners who've had strokes, others showing infinite patience through the descent into a wilderness of dementia.  
Some have been so fired by the love of God that they've touched literally thousands of lives: I think of two women I know at either end of Wales.
There's Dinah Sansome, who'd spent years trying to help homeless young people in London and became convinced of the need for a more permanent solution.   She and her husband Dave welcomed many into their own home, and eventually took over The Bush, once the top hotel in the former mining community of Abertillery where I grew up.  More than 25 years on, it's still a home for former offenders with all kind of problems, and it's inspired another half a dozen such centres around the country, offering hope and new beginning rooted in Christian faith.  For years this couple took no holidays, and a day off would be a round trip of hundreds of miles to visit someone in prison.   'Nothing is more rewarding than when you see a life put back together,' says Dinah.
In North Wales, Edna Speed was coming to the end of a holiday with her small family support group when she realised that they needed to take a giant step.  They'd long provided food parcels and clothes, arranged outings and prison visits.  But they found out that one of the women with them had literally nowhere to go home to after that holiday.  She lived in fear of an alcoholic husband, had outstayed her welcome at a refuge, and was caught in the middle of a ping pong battle between two local councils.  She was 22, and had five children aged between seven and five months.   The group  knew then that they must start providing  permanent homes.  It was a massive project, but in the 25 years since, huge numbers of vulnerable families have found a new beginning.
A long time before, Edna had become aware of the mismatch between the warm, comfortable life of the church where she worshipped each Sunday, and the catalogue of sheer misery which surrounded her in the week when she worked as head teacher on a needy estate.  There had to be a bridge, she felt, for the love of God to be experienced by people who had nothing else, a bridge of practical caring.  And she built one.
Like Dinah in north Wales, she's a tough, no nonsense fighter with the softest of hearts.  And the light shines through her.  It's what our next hymn prays for - that the fire of God's love may be kindled in us, and burn for the glory of God: O Thou who camest from above.
ITEM 12                HYMN 3                CONG/CHOIR/ORGAN                   Dur:
O Thou who camest from above (Wilton)
ITEM 13                ADDRESS PART 2                              ROY JENKINS      DUR:
Those who live out the life of Christ here and now might well inspire us, and humble us - and so might those who make up the church of Christ in heaven, the great company of every race, tribe, nation and language described by the apostle John in the Book of Revelation.   But what part if any do they play with us now? 
Like others in the nonconformist tradition, I grew up hearing words like superstition and credulity in this context, was taught to be wary of any belief which appeared to diminish the unique place of Jesus Christ.  I've come to see that that's to misrepresent much Christian devotion, which at its best both honours those formally declared saints, and insists on the centrality of Jesus.
I'm helped by that passage from the letter to the Hebrew Christians we heard earlier, with its picture of the heroes of faith as a cloud of witnesses to our present struggles.   It takes me to the Millennium Stadium here in Cardiff, with a Welsh team battling for a championship, and I imagine the stands filled with former internationals, who've all been there themselves, shouting, cheering, groaning, urging their successors to victory. 
That heavenly crowd is encouraging us to keep going with our eyes fixed on the Jesus who refused to give up even in face of execution.  That can offer immense strength for whatever battles we face.
I've come to appreciate the privilege and inspiration of literally walking where the classic saints and martyrs have trodden.
More than twenty years ago I stood in the University of Central America in San Salvador at the memorial to six Jesuit priests, murdered because of their stand for the poorest people during their country's civil war.  In the city's cathedral, covered with dust because of building work, I traced my fingers along the tomb of Archbishop Oscar Romero, assassinated in the same cause.  Insofar as I'm prepared to struggle in the name of Christ for truth and justice, these martyrs are with me.  It was a powerfully humbling thought.
It was the same a few months ago on a visit to Russia and the Solovetsky Islands in the White Sea - home both to the most northerly monastery complex in the world (astonishingly beautiful) and also the prototype for the labour camps immortalised in Alexander Solzhenitsyn's Gulag Archipelago.   Countless numbers lost their lives in that place, many because they insisted on living out their faith.  When one of the early abbots, Philip, was made primate of the Russian church, he swiftly rebuked the tsar Ivan The Terrible for his repression: 'God rejects him who does not love his neighbour.  I have to tell you this though I die for it.'  And he did.
We are in courageous and impressive company.
I'm aware of it every time I drive up the Taff valley to Merthyr Tydfil and pass Aberfan, devastated 47 years ago when an avalanche of colliery waste slipped down the mountainside, swept through houses and the village school and killed 144 people, 116 of them children.
The community's Baptist minister Ken Hayes, who became a good friend to me, lost one of his own sons, but continued ministering to other bereaved families, took strings of funerals, didn't see his bed for four nights.  He stayed in the village for more than 25 years, helping to rebuild the community, a natural leader, his courage and compassion rooted in a faith which was both simple and profound.   His church didn't boom.   But Ken stayed, patient, faithful.  'If you can't get converts, you must not stop the witness,' he once told me.
He's in that crowd of witnesses, companions in the struggle urging us on when we're tempted to give it all up.
I have heroes who are not Christian believers, people who have loved and sacrificed and given themselves for what is right.  I remember that Jesus said, 'Blessed are those who hunger and thirst after righteousness, for they shall be satisfied.'  Yes, I honour them, too, and for them all I give thanks.
ITEM 14                ANTHEM              CHOIR  /  ORGAN                                            
Jubilate Deo in C Britten    
ITEM 15                LINK                       PHIL                         
O be joyful in the Lord, Benjamin Britten's Jubilate Deo in C.  In the Beatitudes, Jesus spoke of some of the unlikeliest people experiencing the blessings of God.  So our intercessions remember those who reflect Christ among us today, and struggle as they do so.
ITEM 16                PRAYERS OF INTERCESSION   -  two readers
READER 1     
We pray for all who are ground down by material poverty;
for those whose poverty of spirit leaves them neglected;
for all who feel drained by a daily struggle with illness;
for the humble, despised for their gentleness;
for the pure in heart, mocked for their simple, undivided clarity of purpose.
READER 2                           
Before the Christ who is prince of peace, we pray for all peacemakers, and especially for those who suffer because of the absence of peace, in Syria, Egypt, Nigeria, Pakistan….
We remember all who grieve over the world's wrongs, and their own failings, who mourn because of recent bereavement, or whose pain of loss remains raw after many years.  In the assurance of resurrection, may their hope be revived, and may they know that they are held by a love which is stronger than death.
ITEM 17                CHOIR       Holy, holy, holy - Schubert part 1          DUR:
ITEM 18                READER 1                            
We pray for all whose commitment to the way of Christ provokes opposition:
All whose generosity in forgiveness angers those who cannot understand mercy;
All who have been willing to lose home, family, opportunity, as the price of making known the good news of God's love;
And those of all faiths and none who strive for justice and right relationships,  pursuing the world as God intends it to be.
READER 2                            
 And for ourselves we pray:
Lord, help us to learn from all the saints: those long promoted to glory, and those who remain part of the visible struggle here.
Grant us
the grace to recognise you through them;
the faith to trust as they have trusted;
the courage to follow.
For Jesus' sake.  Amen.
ITEM 19                CHOIR       Holy, holy, holy - Schubert part 2          Dur:
ITEM 20                LINK                       PHIL
Our final hymn ends in heaven, with the saints of every age 'changed from glory into glory…lost in wonder, love and praise.'  'Love divine, all loves excelling.'
ITEM 21                HYMN 4                CONG/CHOIR/ORGAN                   DUR:
Love divine, all loves excelling (Blaenwern)
ITEM 22                BLESSING                            ROY JENKINS
Blessing One
Now to him who is able to keep you from falling and to present you without blemish before the presence of his glory with rejoicing, to the only God, our Saviour, through Jesus Christ our Lord, be glory, majesty, dominion and authority before all time and now and forever.
And the grace of our Lord Jesus Christ, the love of God and the fellowship of the Holy Spirit be with us all.  Amen.
Blessing Two
And the grace of our Lord Jesus Christ, the love of God and the fellowship of the Holy Spirit be with us all.  Amen.
ITEM 23                ORGAN PLAYOUT                            JANICE BALL
Processional "Drisiol" by Mari Watkin. 
R4 Closing anno:
This morning's Sunday Worship came live from Bethany Baptist Church, Rhiwbina, Cardiff.  It was led by the Rev'd Phil Dunning and the preacher was the Rev'd Roy Jenkins.  The Cardiff Ardwyn Singers were directed by David Michael Leggett and the organist was Janice Ball.  The producer was Karen Walker.
Next week's Sunday Worship explores the silence of Remembrance-tide from Girton College Chapel, Cambridge.