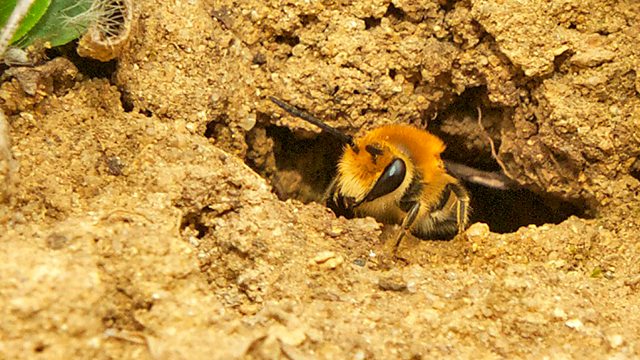 The Ivy Bee
Listen in pop-out player
This week on the Living World Chris Sperring accompanies entomologist Richard Comont to Dry Sandford Pitts in Oxfordshire in search of a relative newcomer to the UK. Only named as a new species in 1993 and first recorded on British shores in 2001 the ivy bee (Colletes hederae) has been working its way north ever since.
A real autumnal species the ivy bee is only active between September and November so its short year begins and ends within the space of a few weeks. As the name suggests its primary food source is the pollen from ivy blossom - the last of the year's flowers. Male ivy bees emerge first in order to be ready for the first females. Unmated females are pounced on my several males all attempting to be the first to mate with her. Unlike honeybees or bumble bees the ivy bee is solitary - the female prepares a nest-hole on her own in which to lay her eggs which she will provision with ivy pollen. Whilst the ivy bee is solitary they tend to dig their nest holes in large aggregations, sometimes in the thousands, in suitable sloping sandy banks.
The ivy bee seems to be bucking the trend of general decline in bee populations and spreading northwards as its range expands. Dry Sandford Pits is one of the most northerly of its known locations. Where will it be spotted next?
Presented by Chris Sperring
Produced by Ellie Sans.
Last on
Richard Comont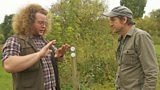 Richard Comont is an ecologist and entomologist based in Oxfordshire.  He has been interested in insects, particularly bees, moths and beetles, from a very early age and has recently finished his PhD at the Centre for Ecology & Hydrology and Oxford University, studying the Harlequin ladybird.  He will soon be taking a position with the Bumblebee Conservation Trust, running the Trusts's citizen science bee monitoring scheme - BeeWalks.
The picture shows Richard Comont on the left with presenter Chris Sperring on the right.
Professor Stephen Hawking on Black Holes