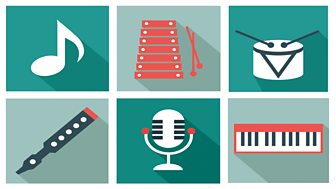 Sun, sea and song
A music series for the summer term with songs about the seaside.
On radio
There are no upcoming broadcasts of this programme
Last on
Thu 23 Jun 2016 03:00
School Radio
Sun, sea and song
Sun, sea and song is a music series based around the theme of the sea. The songs in the programmes help to illustrate the adventures of the presenter, Nigel and his friend, the ship's monkey, Suki. There is also an extract of a fairytale in every episode for the children to listen to. Each programme can be used alone or as part of the series. You can also put the songs together to make your own performance.
Over the first six programmes, the children usually learn one new song per episode. This is taught, section by section, by Nigel, the presenter.The songs are revised in programmes 7 and 8, when the children practise parts of them, then have the opportunity to sing them all the way through, from beginning to end.
At the end of each of the first six programmes, there are music activities, which the children can join in with. The 'backing track' versions of each song, without the words, are also available on the website. This will enable children to practise for a more polished, final performance.