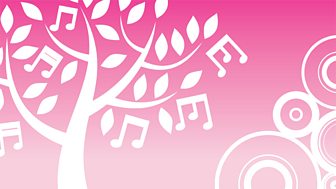 The Magic Hummingbird
This series of The Song Tree is based on a native American folk story.
On radio
There are no upcoming broadcasts of this programme
Last on
Thu 26 Mar 2015 03:20
School Radio
The Magic Hummingbird
The Magic Hummingbird is based on a traditional story from the Native American Hopi tribe. The songs, activities and stories can be used together to form the basis of your own performance. The songs and music activities can also be used to provide material for the QCA music schemes of work: Unit 1 (Ongoing skills) and Unit 5 (Taking off).
The programmes
Each programme introduces a song (or part of a song). The song is carefully taught by the presenters and will be revisited in later programmes. All eight songs will be performed in the last programme. The children are encouraged to join in with the songs and to actively participate in the music activities.
You can either play the programmes straight through or use them in sections over a number of sessions. You may also decide to rerun sections for practice or reinforcement.