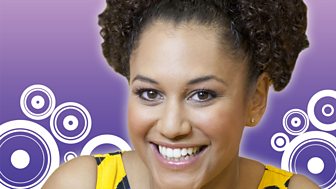 Let's Move
Movement and dance series for children aged 4 - 6, with Cat Sandion and Justin Fletcher.
Using Let's Move
Let's Move
is a dance series for 4 to 6 year olds that can help you deliver the objectives of the National Curriculum at Key Stage 1.
The series needs plenty of space. The hall or a cleared and swept classroom or similar large space is ideal.
Use the best equipment that the school has for playback. Check that the loudspeakers are facing the children to ensure the best possible listening environment.
Make sure the children dance in gym shoes or bare feet. Bare feet give a good sense of contact with the floor, if your floor is safe. The children should be in PE kit to allow easy movement and to ensure that they do not become too hot.
Encourage the children to listen carefully right from the start - not just to the presenter but also to the music.
Teaching points:
Some tips to help you get the best out of these programmes...
Always encourage careful listening

Reinforce the importance of safety - eg awareness of others to avoid collisions, spacing, sensible landings (with the whole foot, flexing as it comes down and knees bending).

Help the children to observe each other's movement in a positive light and to learn from their observations.

Give the children a sense of your own enthusiasm.

Podcasts / downloads:

These programmes are available as downloads ('podcasts') following transmission. This means that you can download each programme - for free - as an mp3 file, for playback either from a computer or from an mp3 player, such as an iPod.
If you subscribe to the series your computer will automatically search for each new episode when you connect to the internet, ensuring that you never miss a programme. More information at the Let's Move podcasts page of the School Radio website.
Let's Move and the National Curriculum:
Dance makes a distinctive contribution to the education of all pupils, in that it uses the most fundamental mode of human expression - movement. Through its use of non-verbal communication, pupils are able to participate in a way that differs from any other area of learning. It provides aesthetic and cultural education, opportunities for personal expression, and it also introduces students to a wealth of traditional, social and theatrical forms. In a broad and balanced curriculum, this important area of human experience should not be neglected.

('Dance in the School Curriculum', a paper by the National Dance Teacher's Association and others)
Dance is acknowledged as an integral ingredient of a child's education in the National Curriculum for England 2014. The Expressive Arts documents for Scotland and Northern Ireland encourage teachers to develop dance as part of the Arts and PE curriculum.
The curriculum states that children should be taught to:
develop fundamental movement skills, becom- ing increasingly competent and confident and access a broad range of opportunities to extend their agility, balance and coordination, individu- ally and with others.

develop balance, agility and co-ordination, and begin to apply these in a range of activities

perform dances using simple movement pat- terns
Feedback
Feedback is vital to the series and is always welcome. Please visit the 'Contact us' page of the School Radio website.