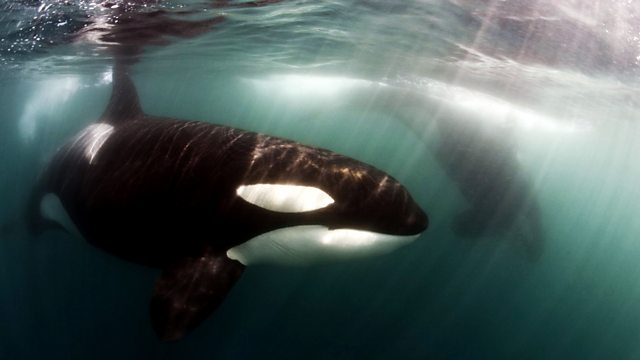 Killer Whales: Beneath the Surface
The killer whale was long feared as a sea monster until, in May 1964, one was brought into captivity for the first time. This spawned a journey of discovery into the killer whale's true nature.
It quickly became clear these were not mindless killers - they were, in fact, highly intelligent social creatures. Today, our understanding is deepening still further and the latest revelations are among the most sensational - not only will these top predators 'adopt' and care for injured and abandoned orphans, but it seems there's no longer just the 'killer whale'.
Last on
Entering the Killer Whales' Personal Space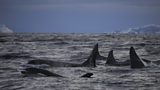 By producer Bill Markham.
How to film a pod of Norwegian killer whales in action?
My first thought had been that the cameraman (and perhaps – at least to show willing – the producer) should snorkel with them. An interesting idea: these six-metre long, fast-moving, cooperative hunters are the ocean's apex predator. And they are called killer whales after all. Fortunately the fact that they are so fast (cruising at around 11 knots and accelerating to three times that) had saved us from that decision… 
The second option had seemed eminently more sensible: to use a remote camera on the end of a pole (a "pole cam") that could be dangled over the side of the boat. A Rigid Inflatable Boat, its sides a foot or so above the waterline – what could be safer? 
Despite the assurances of our expert, Heike, I can't help but feel a little apprehensive as we head out into the fjord in search of a family of feeding killer whales.
"Pffffoooooo!" The explosive blow of a killer whale… followed by its black dorsal fin breaking the fjord's glassy green surface. Soon more and more predators surface noisily around us, in glorious surround sound. While I'm fixated on their every move, the foraging killer whales appear totally uninterested in our presence.
All nervousness is forgotten. This is incredible, involving… a total thrill. Cameraman Scott Tibbles is getting some beautiful shots on the pole-cam.
Then a huge male appears right next to the boat, his dorsal fin five feet tall, his blast of misty breath spouting even higher. We're so close that our boat takes us right into this drifting pocket of fog. I feel droplets on my face. I've been snotted on by a killer whale. And I think I rather like it.
Credits
| Role | Contributor |
| --- | --- |
| Producer | Bill Markham |
| Director | Bill Markham |
| Executive Producer | Chris Cole |
| Series Producer | Roger Webb |
| Narrator | Alec Newman |