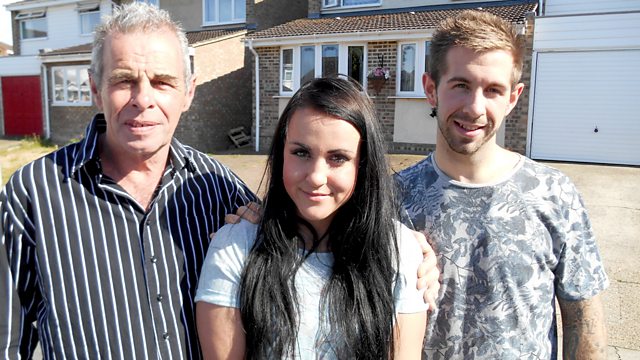 Episode 4
We meet Essex couple Liam and Leah, who have been dating for five years, and Sami and Rochelle, a teenage couple from Bristol.
It was virtual love at first sight for Liam and Leah when they met online. Within a year, Manchester lass Leah had left her family and friends and moved 200 miles to live with Liam and his dad Bill. The problem is that the closeness between father and son means that the relationship has three people in it and Leah is getting homesick.
Leah gets Liam to agree to move to Manchester for a trial at living near her family, but with Liam used to ruling the roost at home and liking everything to be done a certain way how will he cope when he's out of his comfort zone? It's going to be make or break for the couple as Leah gets a taste of the life she's been missing for the past five years.
In Bristol, Sami and Rochelle are living in a very crowded house with three generations under one roof. Having Sami's mum next door isn't great for their sex life and after two years of living with the future in-laws Rochelle has had enough and wants her own place. The problem is that mummy's boy Sami is used to being waited on hand and foot at home and is terrified of going it alone.
Last on
Credits
| Role | Contributor |
| --- | --- |
| Executive Producer | Hannah Wyatt |
| Executive Producer | Kat Lennox |
| Series Producer | Sarah Ladbury |