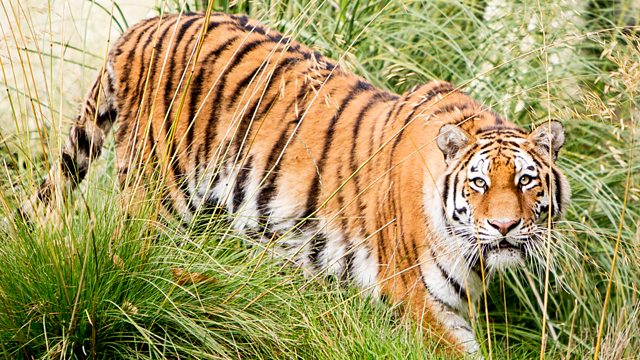 Stanbridge and Tilsworth
Listen in pop-out player
Chaired by Eric Robson, this week the Gardeners' Question Time team is in Stanbridge and Tilsworth, Bedfordshire. Chris Beardshaw, Bunny Guinness and Pippa Greenwood join Eric in the Village Hall as this week's GQT panel. We also visit Woburn Safari Park to find out how horticulture can play a key role in zoology.
Produced by Howard Shannon
A Somethin' Else Production for BBC Radio 4.
This week's questions:
Q. Should I appreciate fairy rings for their natural beauty or should I try to do something about them?
A. You can put extra fertilizer close to the roots during the spring to make the effect less dramatic, but you could just live with them. If you don't mind having them this year but don't want them to persist, allow them to continue up to the point where they start scattering spores. Then cut them back and they won't re-infect. If you are finding dead rings of grass, this is caused by the Mycelium creating a waterproof layer and the rain can't get through. It is worth forking the ground thoroughly.
Q. We are hoping that the optical illusion of narrowing the road with planters might help reduce car speed in the village. What would the panel recommend as highly visible, structural planting to be placed in old farm tyres?
A. Wildflowers such as Primroses, Cowslips and Wild Daffodils. Golden Daffodils and red Tulips would be the perfect height. Another option is painting tree trunks with a pale emulsion, a technique used in France. You could create a similar effect by planting Hawthorne such as Laiveliai and under-plant it with something such as Moon Daisies.
Q. What could I plant on a balcony to protect it from the wind and to prevent us from overlooking the neighbours?
A. Opt for plants that are used to exposed conditions. Phormiums are very good at being in constrained pots. I would also go with Tree Heathers, which have a variety of shapes and colours. To maximize space on the balcony, you could have trees in planters on the ground, such as four standard evergreen Oaks. Clematis Nelly Moser seems to thrive in a windswept area and would add seasonal interest.
Q. I have tried controlling spider mite with an organic plant invigorator. Are there any better methods of control?
A. A plant invigorator won't be making a difference other than providing a damp environment which spider mite don't like. Clear up the garden so there are few places for them to hide over the winter. You could introduce a predatory mite such as Phytoseiulus. Planting on capillary matting holds a lot of water and releases vapour to create the humid environment that spider mite hate.
Q. What method would the panel suggest for propagating a bay tree? Cuttings haven't been successful and layering takes too long.
A. The time to take cuttings is after the first flush of spring growth and the cuttings will start to become a little woodier during the summer. Cut a 4-inch stem, trimming off the bottom leaves. Leave three to four leaves including the growth tip and push it into a lightly firmed soil-based compost. If it won't penetrate, the tissue is too soft and won't produce roots. If it slides in and is still sappy, this is the perfect time to take cuttings. Harvest them into a polythene bag with water in, have compost ready and then plant them into a 9-inch container and cover with the bag. Leave it somewhere warm and within two-three months you will have plenty of roots.
Q. How would you protect a three-foot tree fern from the harsh winter weather?
A. Bend the fronds over to protect the centrepiece. Clay piping or straw over the top also acts as a good insulator. Dicksonia Antarctica has a bracken like front and has a very clean stipe and is almost glassy underneath. It is very hardy and could be kept outside if insulated properly. On the other hand, Dicksonia Fibrosa has a fibrous underside, isn't hardy and should be brought in.
Last on
Woburn Safari Park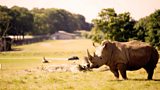 Chris Beardshaw visits Woburn Safari Park to find out how horticulture meets zoology.
Seven things Prince Charles says you should do in the garden