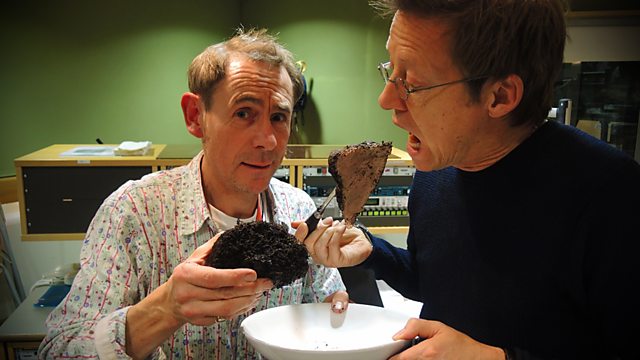 Foodie Thursday
It's Foodie Thursday and chef Nigel Barden has another treat in store! Plus there's a brand new confession for the collective's conscience!
Matt has the sports news, Rebecca is on they money and Sally updates the travel.
Last on
Peat Roasted Beef Fillet
Cooking with peat gives a wonderful earthy and slightly smoky taste that really suits beef. You also get pink, juicy roasted meat that allows you to brag about bringing true terror to the kitchen.
Serves 8
Prep time:  10 mins
Cooking time:  60-90 mins
Ingredients
1kg beef fillet (preferably organic or free-range)
80g BrookLodge organic steak rub (or make your own with salt & pepper & half the amount of your favourite dried herbs such as thyme, rosemary, oregano, a dash of chilli powder & a some crushed fresh garlic)
50ml rapeseed oil (preferably organic)
2kg 100% organic peat
Method
1.Preheat the oven to 220C / gas mark 7.  
2.Cut the beef fillet in half (or quarters if you have a small oven), coat with some rapeseed oil, before massaging in the steak rub & put to one side.
3.Heat a large frying pan with the remaining rapeseed oil & seal the beef on all sides to a nice brown colour.
4.In a large roasting tray, place enough of the peat to line the bottom of the dish (about a 2cm layer).
5.On top, place both pieces of beef lengthways & cover with the rest of the peat, patting & pressing to form the shape of the meat.
6.Put in the oven & immediately reduce the heat to 200C / gas mark 6 & roast for at least an hour (although 90 mins would be fine).  
7.When cooked, remove from the oven & rest for 15 mins, before taking the beef out of the peat.  Rub with paper towel to take off most of the excess peat.
8.Carve & serve.
Nigel's Top Tips
You can leave it to cook on a low heat for up to 2hrs if you're going out, as the peat will ensure the meat remains succulent.
Works well on a barbecue with a lid
Today's Most Popular Tracks
Most added tracks from this show