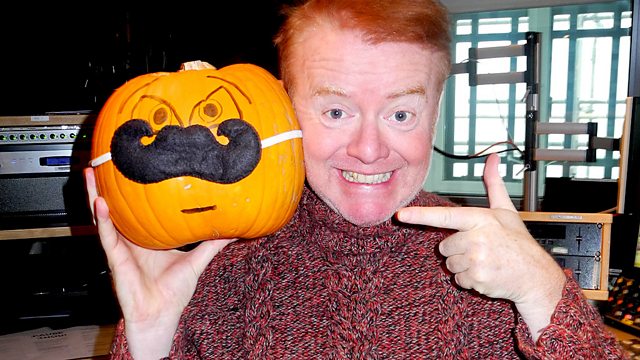 Happy Halloooooooooooowe'en!
It's cackles and giggles galore with Chris this Hallowe'en.
Pep up your pumpkins with ten top tips. There are spooky stories and ghostly claims to fame in the Top Tenuous, ooohhhh!!!!
Little Dracula, Harvey McAllister, tells us about turning up too early for Hallowe'en!
King of currency, the Royal Mint Museum's Kevin Clancy, has coin news!
Sam Burch - wonder-woman of the W.I. - tells us about rustling up new recruits.
And today's Pause for Thought is from the Canon Ann Easter.
Last on
Pause for Thought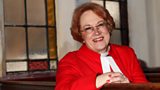 From Canon Ann Easter, Chief Executive of a Charity and Chaplain to the Queen:
It's All Saints or All Hallows' Day tomorrow, so today, October 31st is All Hollows' Eve, or, as we know it better, Halloween. Round our way, lots of shops have been selling weird luminous things – masks, long finger nails, flying bats and enormous plastic spiders webs – and you could be forgiven for thinking that Halloween is one of those spurious festivals invented recently with party manufacturers and card shops in mind – but actually, Halloween has been celebrated for hundreds of years.
This is the season of Remembrance, a time when we particularly think of those who have died and inevitably, thinking about their death brings to mind our own and some of the other dark and unpalatable issues that are part of our lives.
So I reckon that Halloween gives us a chance to play with those thoughts and fears and confront them – a bit like going on a roller coaster at the fair, or indeed, taking a ride on the ghost train; we scream and are horrified, but then find ourselves back on solid ground, in the light and everything's all right again. Being surprised when someone in fancy dress leaps out at us, covered in mock blood, makes us gasp, then laugh – it's not real evil, just a parody. And that witch, threatening to cast a spell to turn us into candy floss, is just the child next door after some sweets. Phew!
All of creation has its death, its dark and decaying side – it's an inescapable part of life but, as a Christian, I believe that death does not have the last word because Jesus has shown us a new life after death. So I'm happy to have a game of  ghoolies and ghosties and get my face covered in flour – as long as I can play the witch!